Last Updated on October 22, 2022 by Ale Monti
Many golfers use rangefinders and are legal in many international tournaments. However, choosing a rangefinder might not be easy for some golfers, given the financial limits. Therefore, we are going to discuss some best budget golf rangefinder choices. Also, the best in what they do. Hence, we are going to help you to develop a perspective on choosing a rangefinder.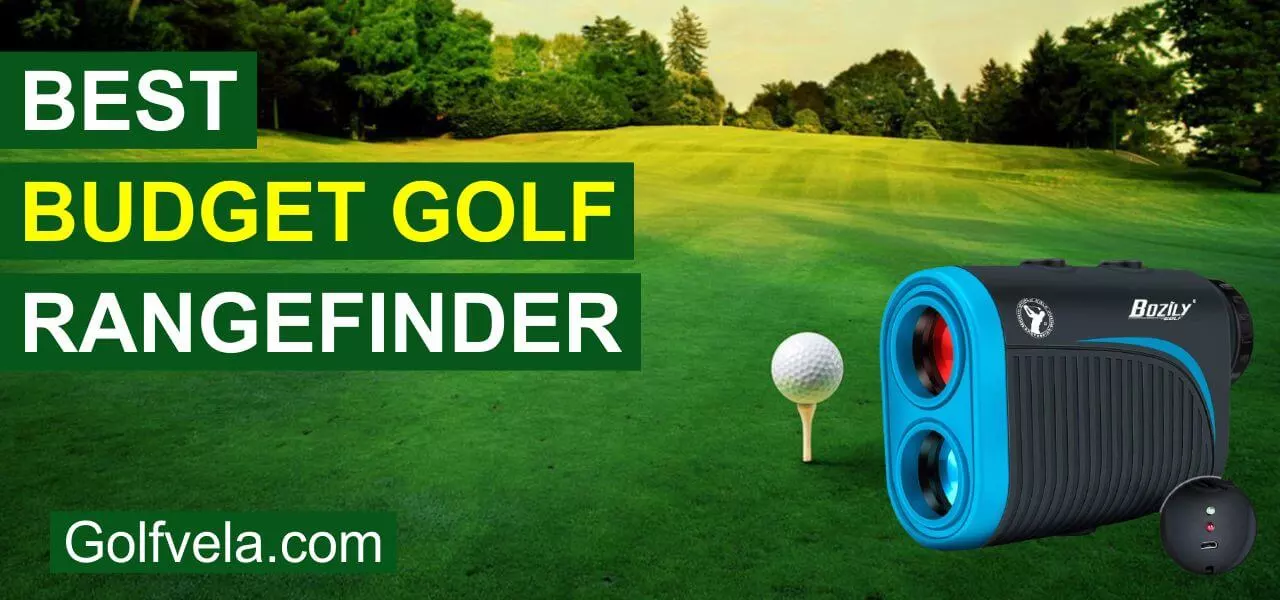 We are going to describe to you the main features to look for in a golf rangefinder. So, are you looking forward to improving your golfing career in 2021? Does it confuse you to choose the best budget golf rangefinder? You are at the right place.
Our Top Picks
This article will guide you in choosing the best rangefinder for golf in terms of budget perspective. Instead of wasting time worrying about how you'll find the best one, give a little time to this review. Your problems regarding golf rangefinder selection will be solved here. If you don't have any budget issues so you can also choose the one in the overall best golf rangefinders.
10 Best Cheap Golf Range Finders
If you're searching for the best budget golf range finder, just follow some key points. You can look at the portability, build quality, range, and type of a golf rangefinder. Also, the display and magnification are quite crucial factors. Moreover, you can also account for some extra features like scanning modes and target lock. However, never forget to look at your pocket because you don't want to overburden yourself.
Therefore, we have decided to explain some of the leading golf rangefinders available in the market. Without a doubt, you should choose a rangefinder that meets your golfing demands and budget. Without further ado, let's dig into the details of different budget rangefinders.
Comparison Table
---
TecTecTec VPRO500 Golf Rangefinder is truly the best golf rangefinder for the money. VPRO500 has features comparable to any flagship out there in the market. Its ergonomic design and sleek dimensions (4.09 x 2.83 x 1.61 inches) make it very attractive. Undoubtedly, due to its price and features, VPRO500 is our top pick.
TecTecTec offers you a 6x magnification with this fantastic golf rangefinder. In addition to this, a multi-coated monocular lens and 7 degrees field of view are prominent features in VPRO500. Moreover, you can have a range of up to 450 yards along with advanced Pin-Seeker Technology. This technology makes VPRO500 accurate up to +/- 1 yard.
Similarly, Continuous Scan Mode makes this golf rangefinder worth buying. Thus, you can get accurate distance measurements of all the physical objects in your playing field. Not only this rangefinder offers you measures in Yards but also in Meters. Apart from this, VPRO500 is energy efficient due to its automatic shutdown feature.
Indeed, your golfing skills will improve using TecTecTec VPRO500's Target Lock Technology that is quite reliable and also works even if your hand is shaking. Most importantly, the Lens Display lets you read distance, battery life, and locked targets. Not to mention, the image quality is also fabulous.
TecTecTec VPRO500 golf rangefinder is a full package. It is rain-resistant and has a durable build. Moreover, VPRO500 comes with a CR2 battery, pouch, wrist strap, cleaning cloth, and a guide. Besides, TecTecTec offers you their two years Happiness Guarantee and lifetime customer support.
---
Callaway 300 Pro Slope Laser Golf Rangefinder is highly rated. It makes it number two in our list of the best budget golf rangefinder. Moreover, Callaway 300 Pro has an ergonomic design with dimensions of 4.5 x 3 x 1.65 inches. Also, it comes in a beautiful design and two different colors with a small portion of red color.
Unlike any other golf rangefinder, Callaway 300 Pro has 7x magnification power. Likewise, it has a very high range of 1200 yards. In other words, you can use this golf rangefinder at a distance of 1 km from your target. Apart from this, PAT (Pin Acquisition Technology) makes this rangefinder accurate up to +/- 0.5 yards.
In addition to PAT, the Slope Compensation feature will let you measure the angle of incline or decline. In crux, you will easily be able to measure the slope-adjusted distance with Callaway 300 Pro. Moreover, this rangefinder is entirely legal to use in tournaments as you can turn off the slope feature. If you are looking for a slope range finder then just check out our guide about the best golf rangefinder with a slope.
Indeed, it has a unique Prism Mode that lets you lock flagstick reflectors. Hence, you can have an accurate and precise measurement of the distance. Moreover, you can also record distances for multiple targets through its scanning mode. In short, this rangefinder has all the flagship qualities to boost your game.
Last but not least, Callaway 300 Pro Slope Laser Golf Rangefinder is an all-in-one deal. It has all the features of flagship and the price of an affordable golf rangefinder. It also comes with all the accessories, including a CR2 battery, pouch, and so on. In short, it is a good deal if you are looking for all those features.
---
Precision Pro NX7 Golf is a recent release. Undoubtedly, we regard it as the best value for money golf rangefinder. Precision Pro NX7 is much lighter, slimmer, and better than its predecessors. It has an all-new design and an attractive finish. When it comes to its dimensions, it is just around 6 x 2 x 3.5 inches.
Precision Pro NX7 Golf has a whopping range of 600 yards, 200 yards more than its predecessor. Precision has claimed its optics to be better than ever. Also, it has a 6x magnification capacity that lets you measure the distances quite rapidly. Without any doubt, you are going to see an increase in the precision of your shots.
The all-new Pro NX7 has been designed for you to measure both sloped and flat surfaces. It comes with an Adaptive Pro Slope Technology and a laser system. The combination of both makes this rangefinder truly magnificent out there in the field. Moreover, you can turn off the slope function whenever you want. Hence, Pro NX7 Golf is legal in tournaments.
In addition to this, Precision Pro NX7 Golf has Target Acquisition Technology (TAG). Alongside TAG, you also get a pulse vibration feature. This combination will let you lock onto your target. Also, you will get a vibration confirmation when you are locked onto a target.
Most importantly, Pro NX7 is water-resistant, and you can use it during rain as well. It is worth knowing that you also get lifetime battery replacement services with NX7. Furthermore, this device also has two years of warranty and a trade-in scheme. This rangefinder comes with a CR2 3v battery, a premium case, and a cleaning cloth.
---
The number 4th in our list of the best budget golf rangefinder is WOSPORTS Golf Rangefinder. This rangefinder is full of extraordinary features. Further, its dimensions of 2.76 x 0.79 x 1.57 inches make it the smallest rangefinder on our list. Also, it has a premium design and a traditional black and white body color combination.
WOSPORTS Golf Rangefinder H-100 has a pretty decent range of 5 to 650 yards. Moreover, it also has a 6x magnification power and 7.5 degrees field angle coverage. You can measure distance in either yards or meters. It entirely depends on your choice; you have to press the mode button for about 3 seconds to do that.
This small rangefinder is full of flagship features. It offers you a slope adjustment feature along with its laser-based accurate and precise measurement. However, the use of this feature is entirely up to you. In this regard, you only have to switch from M1 mode to M2 mode to turn off the slope. Hence, WOSPORTS Golf Rangefinder is legal in tournaments.
In addition to this, WOSPORTS Golf Rangefinder comes with a flagpole lock system. It means you will not have to worry if your hands are shaking; you will get an accurate measurement. This golf rangefinder possesses vibration technology which informs you as soon as it locks a target. Indeed, it has all the features that you are looking for at a budget price. If you are facing hands shaking issues a lot then you must check out the best golf rangefinder for shaky hands.
The design of this device is new and innovative. However, it lacks access to the battery because the cover is inseparable from the body. In addition to this, it has a fog mode to overcome foggy situations. Also, there is 18 months warranty and a promise of friendly customer care by WOSPORTS.
---
Raythor Golf Rangefinder is also another best budget golf rangefinder. It has a different and unique design with white, red, and black colors. Moreover, it has a pretty handy and portable weight of 188 grams, and its dimensions are 4.1 x 1.5 x 2.7 inches. Also, it has a lot of features that make it stand out on the list.
Raythor Golf Rangefinder also has an extraordinary range of 1000 yards. Moreover, this device's accuracy is also very high, up to +/- 0.1 yard. In addition to this, the 6x magnification is also part and parcel of this rangefinder. Furthermore, you can also benefit from its 250+ yards flag lock technology.
Besides, Raythor Golf Rangefinder has three operational modes. In this regard, mode one provides you with the actual distance and the continuous scan mode. Further, mode two has professional features as the actual distance, angle, slope, and much more. However, mode three gives you the speed of moving objects.
In addition to this, Raythor Golf Rangefinder has advanced target acquisition technology. Together with continuous scan mode and pin sensor technology, it makes this device stand out. Moreover, it is waterproof and rainproof. Therefore, you can use Raythor Golf Rangefinder in a bad weather situation as well.
Not to forget, this rangefinder is power efficient. It turns off automatically after 10 seconds of inactivity. Also, the battery is rechargeable, and you can charge it 600 times. It also has 30 days money-back warranty upon dissatisfaction and two years of seller support. In short, it is the best price golf rangefinder.
---
This golf rangefinder is best for those golfers whose eyes are looking for something precise and accurate. This rangefinder can measure exact distances within the golf course to your specified target site. It gives you an accurate estimation of the distances to the trees, flags, bunkers, or anything.
This best-budget golf rangefinder has a high-resolution lens with 6X magnification power. Along with that, this device has advanced tag acquisition technology (TAG). This feature scans the whole field and ultimately focuses your object of interest with more precision. With this rangefinder, you can be sure that it will never focus on what's behind your target.
It has 400 yards of range availability and displays 1/10 yards distance measurement. Additionally, you can also interchange the unit between yards and meters. If you are a golf freak and want to play without weather tension, buy this one. Its body is water-resistant. So on foggy days or rainy weather, this device will help you find your target site precisely.
It is the best affordable golf rangefinder with the best features you can ever expect. The target lock features efficiently lock onto your specific target. Other than flags, this device is also best for shooting moving objects like in hunting.
All the relevant accessories like the carrying case, a small cloth for cleaning, battery, and the manual are in the pack. Even if you are using it the first time, you can take help from the manual guide. Above all, you can get all these fantastic features at such an affordable price.
---
If you are looking for the best affordable golf rangefinder, you can trust Bozily. Undoubtedly, Bozily Laser Range Finder has some features even better than a lot of flagship rangefinders. It has a convenient size of 4.21 x 2.91 x 1.65 inches, and the weight is 178 grams. Of course, it is slightly heavy, but it has an excellent build quality and design.
Bozily Laser Range Finder has a laser-based 6x magnification power. Surprisingly, it has an exceptional range of 1200 yards, which is undoubtedly very high. However, the content is only 250 yards up to the flag. Moreover, it has a pretty decent field of view and covers 7 degrees quite easily.
Apart from this, there are two operational modes in Bozily Laser Range Finder. The first mode is a tournament-legal mode and does not let you measure the slope. However, the second mode brings you all the features like the slope, flag lock, angle, and vibration. These modes are readily available to you with the long press of a button.
Bozily Laser Range Finder has a fully multi-coated lens and a 905 nm laser. In addition to this, the Slope Switch Technology makes it stand out from a lot of rangefinders. In this regard, it can compensate the slope up to 165.6 yards. Moreover, it has the Fast Focus the Target technology that helps you lock onto a flag. Also, this rangefinder is water and rain-resistant. Therefore, you can use it in any condition. Additionally, it has the fog mode to help you play in foggy conditions as well. Its design is also quite attractive and ergonomic. It is also the best budget golf rangefinder when it comes to design. Besides, this product has 30 days return policy and 12 months warranty.
---
Nikon is undoubtedly a big brand when it comes to the best budget golf rangefinder. You might be shocked, but yes Nikon also makes budget products. Nikon Coolshot 20i Golf Rangefinder has a very sleek design with 3.6 x 1.5 x 2.9 inches dimensions. Also, in terms of weight, it is relatively lighter and weighs merely 136 grams.
Nikon Coolshot 20i has a pretty decent range of 6 to 550 yards. Moreover, the field of view is exceptionally more prominent than other competitors. You are certainly going to enjoy its 9 degrees field of view. However, it has a magnification of 4x, which is lower than a lot of competitors. Yet, its quality is undoubtedly excellent.
In addition to this, Coolshot 20i also gives you slope-adjusted measurements. Nikon's slope ID technology corrects for both uphill and downhill slopes. Therefore, it will be easy for you to select the right club and the shot's right trajectory. Moreover, you can quickly turn the slope feature off to comply with USGA's rules.
Coolshot 20i golf rangefinder has a unique feature as it can scan objects for continuous 8 seconds. This feature lets you get the distances for all the things in the field of view. Hence, you will know the exact position of the flag, trees, and every other obstacle. Anyways, its First Target Priority technology gives you the distance of the nearest target first.
This product comes as a complete package. You will find a premium case with this product that you can loop onto your belt. Moreover, there is also two years of warranty with Nikon Coolshot 20i. Undoubtedly, the Nikon Coolshot 20i is the best cheap golf rangefinder with all those features.
---
Caddytek Golf Laser Rangefinder is the best budget golf rangefinder under $150. Moreover, it also has an attractive silver body with black paddings. It is also pretty slim and portable, with its dimensions of 4.1 x 1.5 x 2.9 inches and a weight of 226 g. You are going to like its build quality.
Apart from this, Caddytek Golf Laser Rangefinder has a notable range of 5 to 800 yards. However, the range for a golf flag is 5 to 250 yards. In addition to this, 6x magnification power gives you a clear view of a flag from a distance. However, this device's accuracy is also good as it is accurate up to +/- 1 yard.
Caddytek rangefinder has an excellent slope compensation feature. Besides, it has a patented one-step mode-switch for switching between slope and non-slope. Hence, this rangefinder is not only suitable for your practice sessions but also in tournaments. Also, it follows USGA's handicap guidelines.
Moreover, Cadytek Golf Laser Rangefinder has the Flag-Seeking technology. This technology gives the accurate distance between you and the flag and ignores everything else. Further, it has a scan mode that gives you the readings of all the objects in the field of view.
Most importantly, this rangefinder is waterproof with an IPX4 rating. This rating ensures that the Cadytek rangefinder is suitable to use in the rain. Also, the JOLT feature or the vibration gives you the confirmation of the target lock. In short, Cadytek Laser Golf Rangefinder is the best golf rangefinder for the price.
---
This blue tees golf series 2 pro slope laser rangefinder is everything you need in the distance measuring gadget. The 6X magnification with high definition displays your target clearly and precisely. The precision of this device boosts the confidence level of the player against their competitors.
Consider buying it if you are looking for the best budget golf rangefinder with the best ever and advanced specs. Whether your field has inclines or declines, this laser rangefinder can measure the exact distances. Using the constant arc technology, it gives you the precise estimation between you and the target.
It provides you a wide range of 800 yards. You can easily pinpoint your target flag with the yard accuracy of +/- 1 yard. Even if your view has more than one object within the range, the device can still lock the target object. So, overlapping objects is not an issue while using this blue tees golf series S2 pro rangefinder.
For further confirmation that your target is locked perfectly, it has a vibratory jolt technology. The pulse vibrations confirm that your target is locked and you are ready to hit. The durable and sturdy body, along with water-resistant covering, is a plus point of this rangefinder.
In case you find any damage or default in your product, you don't have to worry about this. The manufacturers offer 60 days money-back guarantee to their customers. Besides this, the two-year manufacturer's warranty makes it a worth buying product. Also, it comes with a microfiber cloth which efficiently cleans up the device.
---
FAQs
What features shall I look for in a golf rangefinder?
It entirely depends on your usage. The best budget golf rangefinder has a lot of features. Usually, if you are practicing, you can use the slope and target lock features to improve your game. However, during a tournament, you can just use classic features like simple distance measurements.
What is the benefit of the slope feature?
The slope compensation feature corrects the distance for uphill and downhill situations. Hence, if you play on uneven terrain, this feature will help you with the correct trajectory.
What is the decent price range for a golf rangefinder?
Golf rangefinders come in a wide range of prices. However, on average, a good rangefinder will be somewhere near $150. However, there are also some fantastic golf rangefinders below $120.
What is the benefit of vibration pulse in golf rangefinders?
Vibration pulse is a feature that lets you know when a rangefinder locks any target. This technology saves your time and also improves the accuracy of target locking.
Do professional golf players use rangefinders?
Yes, there are a lot of players who use rangefinders to improve the accuracy of their shots. Also, using a rangefinder is legal in international tournaments.
Conclusion
Now, after reading the whole discussion, do you still have a question that what is the best golf rangefinder for the money? Well, it depends upon your perspective of best. From our point of view, we've shortlisted a few from the above list.