Last Updated on September 3, 2023 by Ale Monti
Are you a beginner and want to be a successful golfer? Keep one rule in your mind that extensive practice can take you to the heights of success. Whenever you practice, use the best golf rangefinder with slope to improve your gameplay by getting exact figures.
But whenever you are selecting the rangefinder, it would be better to prefer the best golf rangefinder with slope. The typical rangefinders show the estimated distances, but they may provide a few wrong findings when the target is uphill or downhill. At that time, the need for a perfect rangefinder with a slope arises, which calculates the slope area also.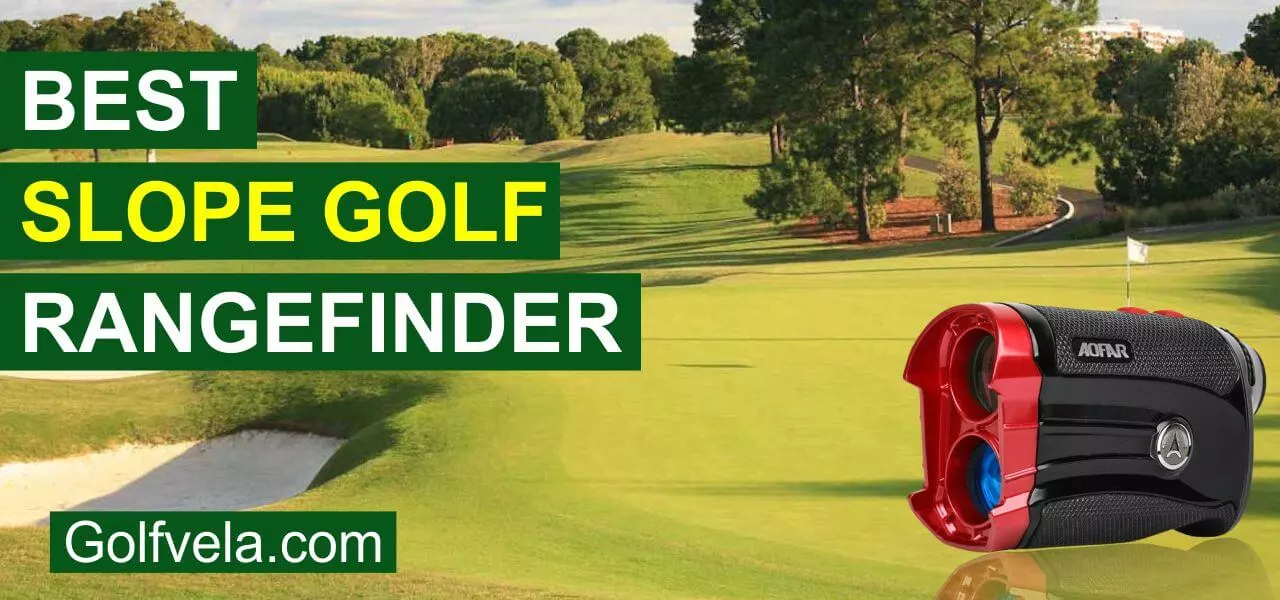 If you are new to this field and finding the best golf rangefinder with slope seems complicated to you, don't worry. We are bringing quality rangefinders for you that will definitely catch your eyes.
7 Best Golf Distance Finders with Slope
Searching for the best golf rangefinder with slope may confuse you because numerous rangefinders are available in the market. That's why we did it for you to save your time and free you from the tension of finding a good product. We have chosen the rangefinders of the top brands to bring some fantabulous and relying products. You can also check the overall best golf rangefinder.
The best golf rangefinders with a slope on our list are not only high-end products. We have added some low-price rangefinders also for those looking for a budgeted product with excellent features. Moreover, all the rangefinders are equipped with modern features, so you are getting tremendous products on our list.
Our Top Picks
We know your curiosity is increasing, and you want to know about the products, so without any further ado, move ahead. Have a glance at all the products and see which looks more desirable to you.
Comparison Table
Image
Product
Details
Price
Precision Pro Golf, NX7
Display: LCD
Item Weight: 8.8 ounces
Range: 400 yards
Magnification: 6x
Dimensions: 6 x 8 x 4 inches
Check Price
Callaway 300 Pro
Display: LCD
Item Weight: 8 ounces
Range: 5 to 1000 yards
Magnification: 6x
Dimensions: 4.25 x 1.75 x 3 inches
Check Price
AOFAR GX-2S
Display: Lens
Item Weight: 2.82 Ounces
Range: 5 to 600 yards
Magnification: 6x
Dimensions: 4.76 x 2.83 x 1.69 Inches
Check Price
Anyork Slope golf Rangefinder
Display: LCD
Item Weight: 12.8 ounces
Range: 1500 yards
Magnification: 6x
Dimensions: 5.6 x 4.25 x 2.8 inches
Check Price
TecTecTec ULT-X
Display: LCD
Item Weight: 1.15 pounds
Range: 1 to 1000 yards
Magnification: 6x
Dimensions: 6.1 x 4.3 x 3.4 inches
Check Price
WOSPORTS Rangefinder
Display: Lens
Item Weight: 6 Ounces
Range: 650 Yards
Magnification: 6X
Dimensions: 2.76 x 0.79 x 1.57 Inches
Check Price
CALLAWAY EZ SCAN
Display: LCD
Weight: 12.8 Ounces
Range: 5-800 yards
Magnification: 6x
Dimension: 8 x 6 x 4 inches
Check Price
Precision Pro Golf, NX7 Golf Rangefinder, is an incredible device coming with free batteries for a lifetime. It includes 6x magnification, pulse vibration, and slope measurement that makes it our top pick.
Do you want to get free from the tension of buying the new batteries over and over? Don't worry, Precision Pro Golf, NX7 Golf Rangefinder provides you lifetime free batteries. By registering your product, you can get free batteries whenever they are running low. You have to request the new battery, and after a few days, you'll get the new one.
This best golf rangefinder with slope is re-designed to present the exact distances on flat and sloped areas. Selecting the right golf club is no more an issue because of its rapid laser speed and incredible design. The advanced slope technology enables beginners to play like a pro in a shorter time.
The Pro Slope Technology brings ease in playing your favorite game, but you can also turn it off when required.
To make the users see everything clearly, it comes with clear optics. The 6x magnification technology helps you to focus the target clearly and easily. It shows the distance of the ball from the hole instantly. Moreover, the NX7 Pro Slope Golf Rangefinder is an easy-to-use and efficient device.
The Target Acquisition Technology makes it pick up the flag without any problem, even if your hands are shaking. If you are constantly facing hands shaking issues so you must check out our detailed guide about the best golf rangefinder for shaky hands.
With 600 yards range and 1-yard measurements, NX7 Pro Golf Rangefinder becomes a better choice for all golfers. Another advantage of this device is that you can use it even during the rains because it is water-resistant.
---
Callaway 300 Pro Slope Laser Golf Rangefinder has enormous features. By featuring 7x magnification, 1200 yards measurement range, and powerful batteries, it proves to be an outstanding rangefinder.
Callaway 300 Pro is the best golf laser rangefinder with a slope that comes with multiple handy features. The ergonomic design of the rangefinder makes it eye-catchy and attractive. The sure-grip construction of this product ensures a strong and firm grip even when your hands are wet.
The total range of this rangefinder is quite huge that is 1200 yards. The 7x magnification packed in Callaway 300 Pro rangefinder provides a clearer view of the target. It shows every image clearly to make the new golfers confident when hitting. But if you are new to the golf game then check the Best golf rangefinder for beginners.
It becomes difficult for beginners to strike if they don't have exact findings. Keeping that point in view, the manufacturers have added slope technology in the rangefinder. It measures the incline and decline angles for making the golfers play with precision—no doubt this feature will improve the gameplay in less duration.
The pulse technology vibrates at the moment when it locks the pin. The interesting fact is that it includes many valuable features for your ease. One of the beneficial features is the scan mode that shows the distances of different targets at a time. The on/off switch is available that enables the users to turn it off when not in use.
---
AOFAR GX-2S – with Most Positive Reviews
AOFAR Golf Rangefinder has an efficient rubber design that is non-slippery and robust. It is lightweight and efficiently made. The features include 6x magnification, slope switch function, water-resistant, and scan mode.
Are you concerned about your rangefinder's battery life? Here is the AOFAR Golf Rangefinder that is taking care of your concerns. It includes a battery in its package for saving your money. You can use this rangefinder instantly after unboxing because the battery is available with it. Moreover, it has an incredible feature that doesn't waste battery life.
If the rangefinder is not in use for 8 seconds, it automatically turns off. So, you don't have to worry about switching the rangefinder off rather than focusing on the game.
This best golf slope rangefinder comes with a slope switch function that is more than easy to turn off when not required. The professionals will find the turn-off feature more attractive, so they can also use it. The benefit of this feature is that it provides accurate findings of the sloped distances.
The durable and sturdy body of the AOFAR Golf Rangefinder is non-slippery. You can handle it with ease because it fits right in your hands. It is dust-resistant and waterproof, which is an advantageous feature when you are eager to play even in challenging environments. The weight is just 180 grams which doesn't over-burden your hands or strain your shoulders.
---
Anyork Golf & Hunting Rangefinder is gaining popularity for its outclass performance. The 2 scan modes, 5-1500 yards range, wider LCD, and auto shut-off functions make it stand apart from competitors.
Anyork Golf & Hunting Rangefinder is the best golf laser rangefinder with slope. If you are a golfer and a hunter also, the same device is helpful for both activities. Use it with full confidence for different outdoor activities because it will never disappoint you. After-sales services are also tremendous, so you can trust this device which ensures a better user experience.
The quality of this best golf rangefinder slope is quite good. The rangefinder comes with 2 scan range modes. Mode 1 offers range reading continuously whenever the target comes in front of the lens. This distance finding is of the straight line target. On the other hand, Mode 2 is a perfect feature for supporting the angle range compensation.
With pin-seeking technology, it locks the pin accurately. The Flagpole-Locking Vibration is an incredible feature that just alerts you at the moment when the flag is locked.
The 6x magnification focuses the target for clearer vision. Even the people wearing spectacles can see the target precisely by moving the eyepiece. This waterproof rangefinder makes you use it even during wet environmental conditions.
If you are not using it for more than 3 seconds, it will turn off. Some people will find this feature helpful, while others might get irritated because they have to turn it on repeatedly.
---
TecTecTec ULT-X– Best Yardage Finder with Slope
TecTecTec ULT-X Golf Rangefinder is a high-quality product with all the incredible features you can think a rangefinder should contain. The available accessories make it more desirable for people having a low budget.
Do you want to buy a new golf rangefinder that comes with all essential accessories? TecTecTec ULT-X Golf Rangefinder is exactly what you are looking for. This best golf rangefinder with slope includes a durable protective case, wrist strap, cleaning cloth, quick-start guide, and a CR-2 lithium battery.
The target lock technology can catch the flags at 450 yards in a bit of time. The 6x magnification shows every image clear and bright. Besides, the crystal-clear visuals will help people with weak eyesight to see the targets more precisely.
It packs the latest optical technology for delivering accurate distance findings. You can rely on this device with full confidence because it will present flawless measurements. The accuracy differs according to the distances. The distance measurement range is 1000 yards with ± 1-yard accuracy. For 600 yards, the accuracy measurements are ± 0.5 yards, while for 300 yards, it's ± 0.3 yards.
The slope mode is more than easy to use and is accurate too. Just pull out the yellow faceplate, and it's ready to start its duty. If you want to overview the distances, use the scan mode to see the measurements one by one.
---
WOSPORTS Rechargeable Golf Rangefinder is a stunning device bringing ease to your gameplay. The rechargeable battery doesn't require replacement; instead, recharge it through the included charging cable. It is inexpensive yet valuable and durable.
WOSPORTS Rechargeable Golf Rangefinder is an outstanding product with a rechargeable lithium battery. If you find it difficult to replace the battery over and over, this rangefinder saves you from that inconvenience. Just recharge it, and it's good to go. The 3.7V 750 mAh lithium battery is rechargeable, which you can charge by the USB cable available with it. Moreover, the low battery indicator alerts you that it's time to plug in the charger.
It provides accurate results in a short time. In 0.5-1 sec, it will present the distance findings instantly.
WOSPORTS Rechargeable Golf Rangefinder is an efficient device with flag locking technology. As it locks the flag at once, it vibrates to alert the golfer that the target is right in front of you.
Another handy feature is the continuous scan which enables the rangefinder to focus the multiple targets at once.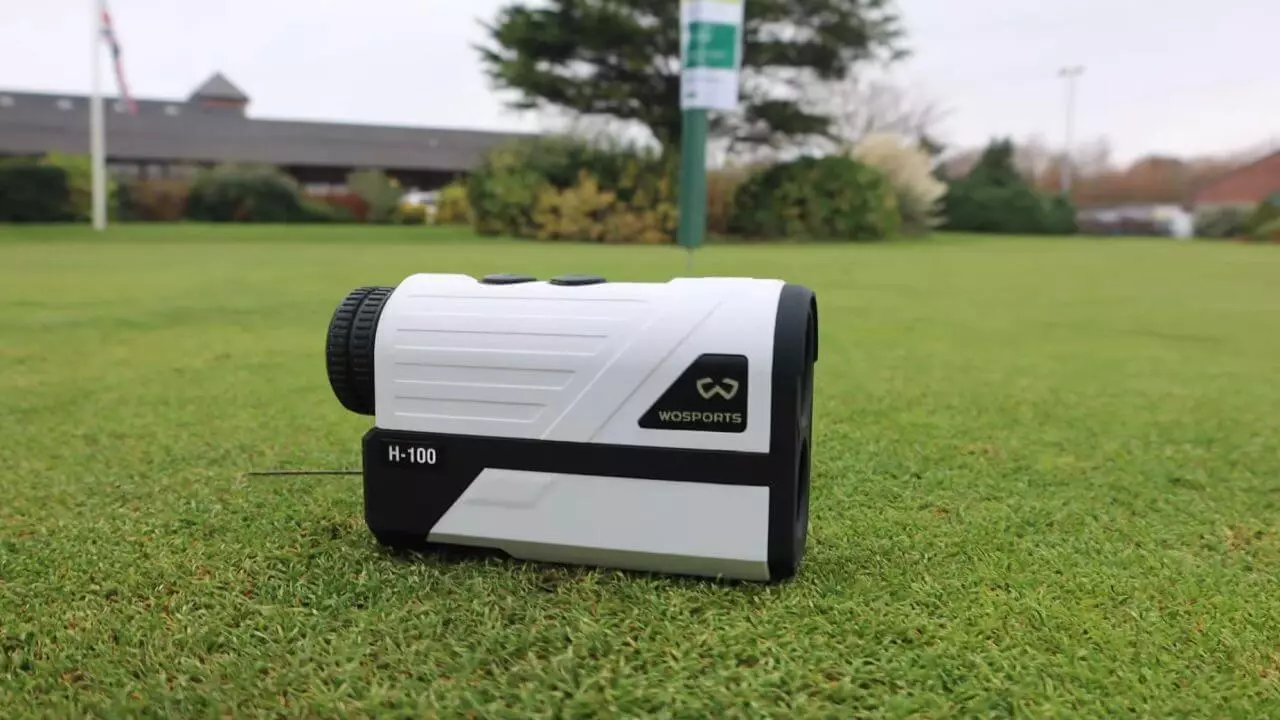 It has a 5-800Y distance measurement range with ±1 yard accuracy. If you want to use it during the fog and rains, go for it confidently. However, you should keep one point in mind that heavy rain or fog can affect the measurements.
The 6x magnification allows this best golf rangefinder with slope to focus the target easily. Along with that, it is perfect for the measurement of reflective objects like flag poles or trees.
---
Callaway EZ SCAN is an easy-to-use, accurate, and efficient product. Updates about the target within less time and are helpful for beginners and pro both.
Callaway EZ Scan is the best golf rangefinder with scope that utilizes the latest optics technology. With this technology, the visual experience goes to another level. The 7x magnification is what will show the targets clearer and more focused.
If you are getting eager to know the distance measurement range of this rangefinder, hold on. It offers a 5-1200 yards range with +/-. 5 yards accuracy. The quality of the OLED display is superb and shows the target with high resolution.
The Pin Acquisition Technology locks the flag quite fastly and accurately. Provides the golfers with accurate findings to make them play their favorite game confidently.
The exciting feature it comes with is the slope technology. It is a perfect fit for beginners because the measures are provided after calculating the incline and decline angles. The slope-adjusted distance is manipulated skillfully to make the golfers sure they are provided with the right measures. Furthermore, if the slope feature is not required currently, turn it off. The on/off switch is available for this purpose.
If you need multiple targets at a time, don't worry, it has scan mode. This feature is exclusively added to deliver measurements of multiple targets together.
---
Best Golf Rangefinder with Slope Buying Guide
Whenever you are buying the best golf rangefinder with slope, you must keep the following points in your mind. Otherwise, you'll regret your decision.
Slope Measurement
First of all, when you want to buy a rangefinder with slope, it must contain the slope measurement feature. The slope rangefinders provide the distance to the hole or flagstick after calculating the slopes coming in your way. This way, you'll be able to choose the right club for hitting the perfect shot. So, you must focus on this feature if you want to improve your gameplay in a shorter duration.
Pin Seeking Technology
Many modern rangefinders are including pin-seeking technology nowadays due to their high functionality. It becomes difficult for a rangefinder to lock on to the flag if the target is far away. In this situation, a rangefinder with pin-seeking technology is the perfect solution. Its advantage is that it locks the target even if the hands of the golfer are shaking.
Waterproof
Because golf is an outdoor game, so you have to come across every sort of environmental condition. If you have a rangefinder that can't withstand the rains, it is of no use. Must check the specs to find out whether your new rangefinder is waterproof or not.
The rangefinders with rubber or plastic outer shells are often waterproof. So, double-check the specs when eagerly desiring to purchase the waterproof rangefinder.
Battery Life
What will happen when you rely totally on the rangefinder for exact findings and its battery runs out? Your game and mood will both spoil. The battery life is much essential to look at whenever you are buying a new device.
Some rangefinders come with rechargeable batteries, while others require the replacement of batteries. It's up to you which one you prefer. But whatever the batteries are, they must sustain for longer.
FAQs
 What is the Slope feature in a Golf Rangefinder?
Some golf rangefinders have a feature called "slope" that adjusts distance measurements for elevation changes. This can provide more accurate yardage information, in uphill or downhill shots.
What is the advantage of the slope-adjusted measurements? 
Whenever you are going to shoot, the flagstick is away from you, so you need a proper distance measurement. If the flagstick is above or down to you, you obviously need the slope-adjusted measurements to hit with precision.
Which golfers must buy the best golf rangefinder with slope?
If you are a beginner or not good at estimating distances, you must go for the rangefinder with slope. When you are mostly playing in flat courses, the slope function is not required, for that matter.
Do the low-price rangefinders come with slope technology?
The answer to this question is "Yes." The top brands also produce some cheap rangefinders with slope. So, you can buy a good product even at a lower price also to get the perfect measurements.
Can we use a golf rangefinder for other outdoor sports?
The golf rangefinder is equally usable for other outdoor sports, including hunting, bird watching, bow hunting, beachcombing, and archery.
Conclusion
After discussing all the essential details about the best golf rangefinder with slope, it's time to share our opinion. Please don't get confused; we are making the decision-making simple for you.
First comes our top pick, which is the Precision Pro Golf, NX7. By packing all the essential high-quality features, it became the apple of our eye.
Now the other product leaving others behind in the race is the Callaway 300 Pro. It is our list's high-rated device because customers using it regularly are pretty happy with its performance.
AOFAR GX-2S is the best budget product coming with outstanding innovative features. Don't be upset if having a low budget; you are going to have a great rangefinder that will accompany you for longer.