Last Updated on September 4, 2022 by Ale Monti
The best Golf GPS Watches not only do a typical job of providing exact distances to the green but much more than that. Their various features add more convenience to your game. The golf GPS watches track the golfer's shot and provide accurate yardages to tell them how much they're improving. Some watches become virtual caddies and recommend the perfect club for precise shots.
Best Golf GPS Watches are available in different price ranges, and everyone can't buy the most expensive ones. That's why we have added low to high price products to our list to make everyone find a better golf distance watch for them. Most of our mentioned wrist golf GPS watches offer preloaded golf courses, longer battery life, and high-resolution touchscreens. Our researchers put a lot of effort to bring quality products for you. So, confidently pick any of these top-rated golf GPS watches for incredible gameplay onwards.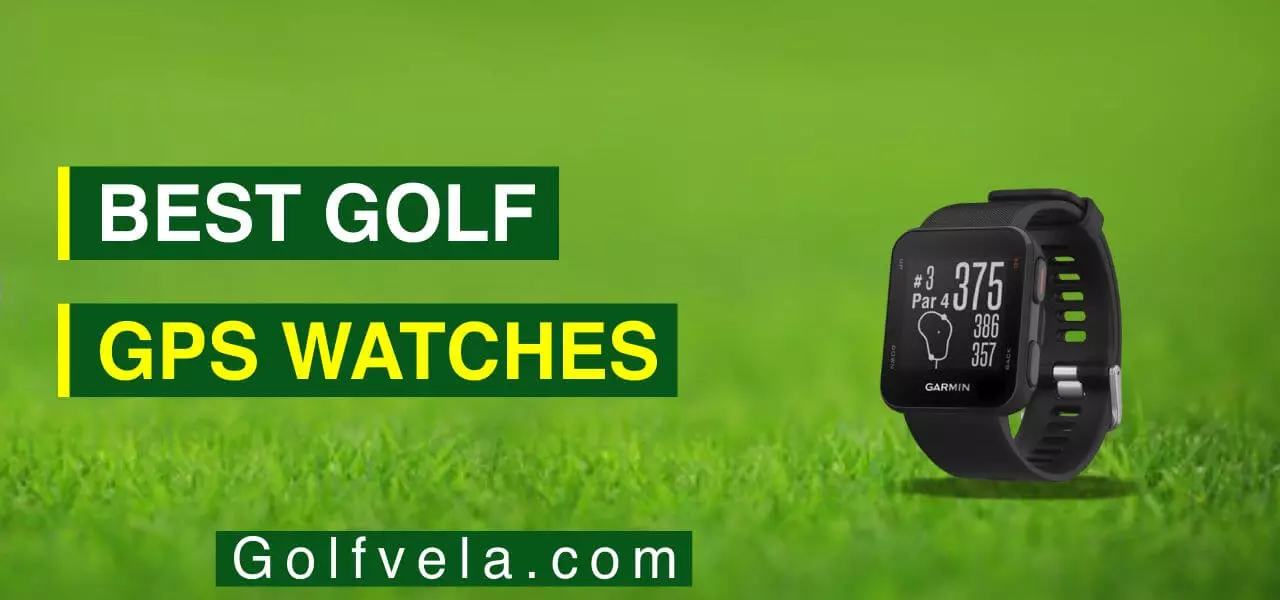 Best Golf GPS Watches
Finding the best golf GPS watches might be a bit tricky for those who are new to golf. That's why we are displaying the top-notch products here to help you buy the perfect one without any issue. We focus on modern products as they are more up-to-date. We select products of well-renowned brands because such companies don't manufacture low-quality products. Ultimately, you get a more reliable device to accompany you for years to come. If you are looking for smartwatches for golf so you can check our separate detailed guide about the best smartwatches for golf.
Best Golf GPS Watches Top Picks
The low-price products are often not up to the mark, but some people go for them as they can't afford the pricer ones. That's why we keenly searched for the outclass watches among the cheap golf GPS watches. So, the low-price watches on our list are the best among their competitors. Let's have a look at the best Golf GPS Watches to see what we gathered for you.
Golf GPS Watches Comparison Table
---
---
This watch will let you focus on your game and the course both. It automatically changes the readings as you just reach the other tee box after completing one hole. Moreover, it is very convenient to use and simple in its style. This lightweight golf watch doesn't feel heavy on your wrist. Due to its high-resolution and bright display, you can see the readings very clearly. Even its screen is visible in the sunlight also.
You can use Garmin Express for uploading the scorecards, which is beneficial for keeping track of your rounds. And if you want, you can participate in the leaderboards every week using the Garmin Express App.
Enjoy the tremendous performance of the Garmin S10 GPS golf watch, which offers 12 hours of battery life. It is lightweight, simple, and easy to use. By changing readings automatically, it makes you free from doing settings again and again.
---
There is no need to worry about recharging this golf watch over and over. The lithium-ion battery is rechargeable and lasts for 10 hours which is enough to let you play the whole day long. It comes with pre-loaded 40,000 courses, and the update of these courses is available on the GOLF BUDDY Smart App. These updates are totally free.
The green undulation shows the slope's graduation in different colors for better understanding. For the lowest incline point, it displays blue color while red for the highest point. But it is just available for selected courses.
Golf Buddy Aim Golf GPS Watch is a unique product having numerous outstanding features. The touchscreen, green undulation, and 10 hours of battery life make it an ideal device for everyone.
---
It gives the ease of moving the score tracker and pin conveniently. The AutoShot Game Tracking feature keeps a record of shot distances and shows hazards also. The same feature is perfect for providing distances from hazards. The AutoShot game tracking, along with other sensors, measures the distances of your shots automatically and records them for later analysis.
By connecting this best golf GPS watch with your smartphone, you can check out notifications, messages, calls, and emails. The long battery life is a plus point of this incredible device. The battery lasts for 15 hours in GPS mode, while in smartwatch mode, it doesn't need recharging for 10 days.
Garmin Approach S40 comes with 1.2 inches touchscreen. It is sunlight-readable and doesn't bother the user to recharge repeatedly. The preloaded courses bring more ease to your game.
---
Providing access to around 38,000 courses from all over the world. If you are not too sharp to use the tricky gadgets, then this one is a better fit for you. Using it is more than easy. Navigate the screen with the help of only 4 buttons. As you get done with the setup, this one of the best golf distance watches automatically shows the course information.
One thing that most people search for at the time of buying any gadget is longer battery life. If you are also the one much concerned about the battery life of your GPS watch, be relaxed. This incredible watch will continuously work for 2.5 rounds to make you free from frequent recharging.
TecTecTec ULT-G Golf GPS Watch is durable, efficient, and simple to use. You get all that you want, and it doesn't include unnecessary features that are not required normally. By showing accurate distances, this one of the best price golf GPS watches stands apart from others.
---
Play your favorite game with minimal hecticness. Because it provides you yardage towards the green and also focuses on the uphill/downhill slopes. So, if you play on hills, you'll find it very useful.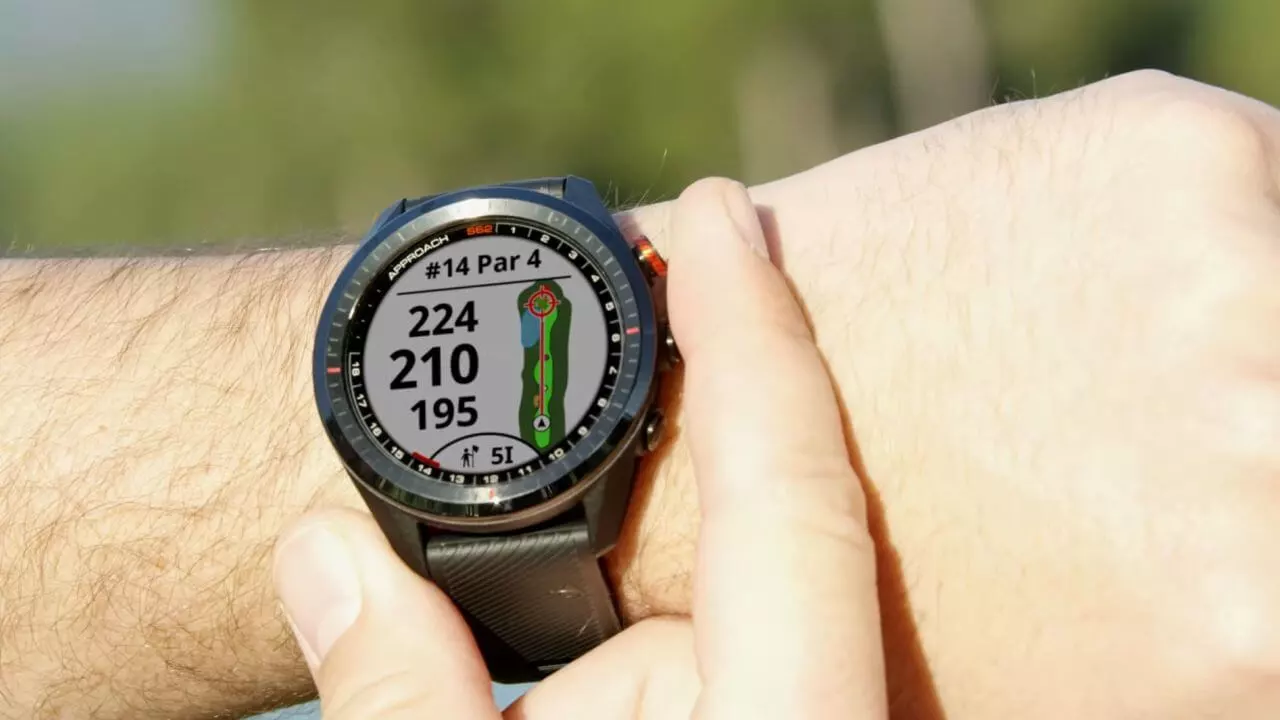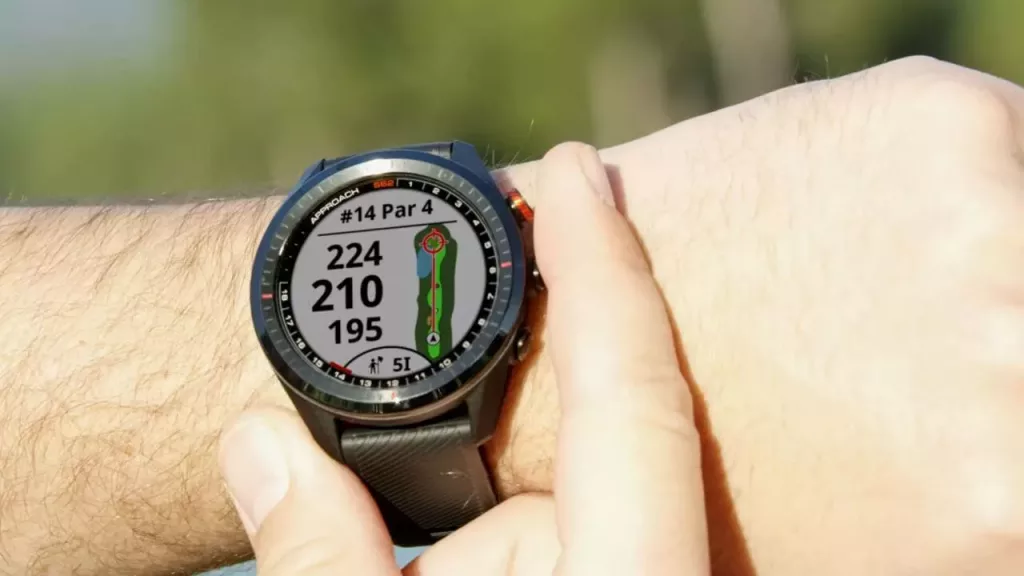 Along with innovative features, it also informs you of the back, middle, and front distances of the green. Also, you can know about the hazards of every hole.
It works like a regular smartwatch and comes with all the features you might search for in a top-notch product. It provides notifications and perfect health tracking and fitness readings. You can also check the Best fitness tracker for golf.
Garmin Approach S62 is one of the best golf GPS watches that has Wi-Fi and Bluetooth. The 1.3 inches touchscreen is easy to read, while its innovative features make it the favorite of every golfer.
---
Up to 36,000 courses are available from across the globe. The course updates and mobile app are available totally free.
Enjoy seamless tracking through its Shot Detection ClubSense feature. It tells the hazards and the front, middle, and back distances from the pin. Distance from the green is shown in meters and yards.
The battery life may not be that much longer as the other brand watches offer. If you are searching for a golf watch with longer battery life, it may not be ideal for you. You can conveniently adjust its strap because it is designed to fit 11 wrist sizes without any effort. So, it will not slip off of your wrist.
Shot Scope V2 Smart GPS Golf Watch is a remarkable product with enormous features. It perfectly fits on every size wrist and provides 36,000 golf courses. It is superb in its performance.
---
It is slim, stylish, and lightweight that looks impressive on every golfer's wrist. Due to Bluetooth Smart and ANT+ connectivity options, you can comfortably connect it with the smartphone. The incredible GPS of this best golf watch displays distances to the green, doglegs, and hazards.
Approach X40 is quite suitable for beginners. Because it knows your location and tells you how much distance is between you and the next pin.
Now you don't have to search for the smartphone here and there for replying to important text messages. This superb device will provide you all the notifications of your emails and messages on your wrist.
The Green View display feature shows the exact layout and position of the green. It will help you to reposition the pin for a perfect shot.
If you want to buy a stylish, slim, and lightweight golf GPS watch, Garmin Approach X40 is a better option. It offers 10 hours of battery life in GPS mode. You'll love its functionality and better connectivity options.
---
It performs its main function very efficiently, which is to provide the distances of different areas from the hole. Whether you want to know the front distance from the green or of the back or even middle, it will provide accurate findings. The screen shows all the findings clearly that are easier to read.
The preloaded 36,000 courses are available in 30 countries. The auto-hole advance is a novel feature that changes from one hole to another automatically. So, the golfers can go the whole round conveniently.
By buying this incredible GPS watch, you get access to the Bushnell Golf App. It shows 3D flyovers of the front, center, and back distances and of the hazards also.
Bushnell Neo Ion 2 Golf GPS Watch comes with longer battery life. It offers 36,000 preloaded courses, a shot distance calculator, and Bluetooth connectivity.
---
More than 30,000 golf courses are preloaded to make your search easier. It is totally free because you don't have to pay any annual charges and it doesn't need any subscription. The shot distance measurement feature provides you information regarding round data while you're playing.
This remarkable watch is water-resistant, so if it happens that you're playing and the rain starts, keep on playing. There would be no fear of its damage.
The included lithium-ion battery is rechargeable and lasts for 10 hours if you select GPS mode. If you choose the Time mode, the battery will last for 90 days.
Callaway GPSy Golf GPS Watch is lightweight, slim, and water-resistant. It delivers accurate distances and comes with preloaded global course maps. The Auto course recognition, along with auto hole advance, makes your gameplay more convenient.
---
Best Golf GPS Watches Buying Guide
It would be a bit difficult to search for the best golf GPS watches for beginners. That's why we are sharing some essential points to focus on before making a purchase.
1. Preloaded Courses
Most of the modern golf GPS watches include preloaded golf courses. Different brands offer a different number of courses, ranging from 30,000 to 45,000 across the globe. This feature saves you from the extra hassle of connecting the watch with a computer for downloading the courses of your choice.
Some of the watches update as they get the wifi signals, while others don't even need wifi and update on their own.
2. Auto-Course Recognition
The golf GPS watches with auto course recognition make it possible for you to easily locate the course you are aiming to play on. That feature automatically pulls your course up to let you start the round instantly. It will make you free from the effort of finding courses manually on the watch.
3. Scorecard
The best golf GPS watches with a scorecard will bring more ease to your game. You don't have to record the score on a paper scorecard or logging into an app for score compilation. The benefit of this feature is that it records all the scores, which you can review later on. This will help you improve your performance because you can analyze different golf rounds at a time.
4. Green Mapping
It is one of the innovative features the best GPS golf watches do include. It exhibits the actual shape of the pin and helps the golfer see the far-off green more clearly. Also, it makes you aim with precision by showing the exact location of the green. Along with distance to the green, it gives a clear picture of the depth and width of the green to make you shot like a pro.
Recommended Gol GPS Watches
Now when you have reviewed the whole article, it might have become confusing for you which one to choose. So, let us make it easier for you.
Garmin Approach S10 is our top pick because of its numerous outstanding features. Its high-resolution touchscreen is sunlight-readable, while it offers 12 hours of longer battery life. Moreover, it comes with 41,000 preloaded golf courses. So, if you want a remarkable watch to add to our golf pieces of equipment, it's a better choice.
TecTecTec ULT-G is the best budget device for all people looking for a reliable product at less price. It will never disappoint you because it includes all that you might be looking for.
Now comes the Garmin Approach S62 that is a high-end product on our list. It offers superb connectivity options and high-quality features. So you get what you pay for.