Last Updated on October 25, 2022 by Ale Monti
Are you suffering from arthritis and thinking of leaving your golf career due to this disease? Hold on; there is an amazing solution to this issue. Use the best golf grips for arthritic hands and keep on playing golf efficiently.
Arthritis is a disease in which the patient experiences stiffness of joints, pain, and swelling. The inflammation of joints causes discomfort, and the patient finds difficulty in moving his hands. But exercise can help people with arthritis to maintain their routine activities. As the best golf grips for arthritic hands are designed according to the needs of arthritis patients; so they are safe to use.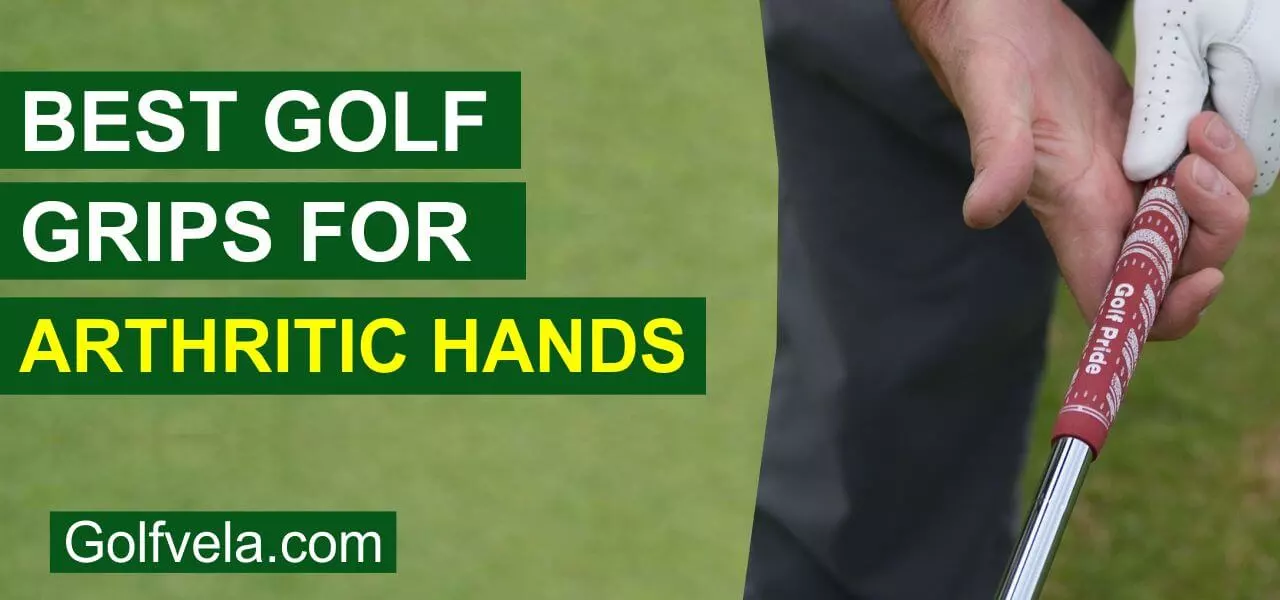 The best golf club grips for arthritic hands are mostly made oversized that are a perfect fit for arthritis. Moreover, your hands will not feel exertion when holding the club. That's why arthritis patients should not use regular grips but only the products designed for this disease.
8 Best Golf Grips for Arthritis
Finding a grip for arthritic hands is a bit technical. Everyone doesn't know what to focus on when buying golf grips for arthritis patients. That's why we are making this challenging task easy for you by presenting top-notch products here. Our researchers are well aware of the features required for golf grips for arthritic hands. So, we came up with the products that are standing apart from their competitors. But if you are not an arthritic patient then check out the best golf grips for normal users.
Our Recommendations
Along with focusing on the high-quality and innovative features, we selected the low-price products also. That's why everyone who is searching for phenomenal golf grips would definitely get the better options here. The best Golf Grips for Arthritis on our list are having all the innovative features, so you'll love using them.
Comparison Table
---
Majek Jumbo Tour Pro Velvet is the best golf grips for arthritic Hands from Majek! As compared to other standard size grips, Majek Tour Pro Velvet Golf Grips are 1/8 inches thick in diameter. They are known as oversized or Jumbo Golf grips as they come in slightly large sizes.
Particularly for players having larger hands will love this golf grip because it provides good control without any discomfort. Usually, golf grips come in small sizes, and players with larger hands face issues while using them. Majek Jumbo golf grips are obviously a better choice for these players. (You can also check the best golf grips for big hands if your hand size is large.)
For Golfers who have arthritis, hand pain, or other joint issues, this Majek Jumbo golf grip will really help them out. It offers good gripping for players having hand pain like arthritis. They can play golf without overexerting their hands and arm muscles.
The Majek Jumbo golf grips are specially designed to reduce the pain and provide good hand control without losing any comfort. The grips' thicker design offers great shock absorption, further decreasing the pain level for players with arthritis.
The precision textured and tapered design of these grips help in providing better slip resistance. The stylish black-colored grips are available in a pack of 13 with an affordable price range. The high-quality performance and specific design of these grips make them suitable for senior players also.
---
The Tacki-Mac is an oversized 3/32 inches golf grip with a unique design. The grip is made from a very soft compound that offers a great feel and comfort. It is an excellent choice for players having arthritis-like joint and hand pain or weaker hand strength.
As compared to other products, Tacki-Mac golf grips never lose their tackiness which makes them superior to other grips. The nice firm feel of these grips offers great feedback, while the tackiness of the grip feels amazing even after using it for a long time. If you don't have severe arthritis problems then you can also use the best tacky golf grips.
These grips are made from amazing quality rubber known as thermoplastic rubber (TPR), which gives an exceptional tacky feel to the grips. The highly durable fabrication rich grain patterns and colorfast dye mean the grip will last longer. These grips provide great swing traction with ease and comfort for golfers at any skill level.
The oversized grip is the best choice for old golfers. If you feel pain in your hand or you have a large hand, then the Tacki-Mac golf grip is the best and cheap grip to use. It gives a great performance in almost every weather condition.
You will feel the lesser pain if you are a golfer with arthritic hands after using these grips. They come in a bundle of 13 grips with no grip tape and grip solvent.
---
The Golf Pride Tour Wrap 2G is another great golf grip for players having arthritis. These grips are made from an innovative combination of rubber and cord. The aligned technology used on these grips guarantees consistency and softness to your hands during the swing. They come with raised ridge and offer great alignment and consistency.
The plus sign pattern and pebbled texture design of these grips provide more coverage and help in increasing control over the club. The cotton cord brushed material combined with soft rubber gives outstanding stability for players having hand pain.
These grips can easily stand up in humidity but may not work well in sweat or rainy conditions. ( For sweat and rainy conditions you can check the best golf grips for humid / rain. ) These golf grips are the best golf grips for arthritic hands, which are available in different colors. It offers a shiny, comfortable, and tacky feel with an exciting look.
Constructed with high track proprietary rubber compound and the stylish leather-look add more softness and durability to these grips. The firmest feel offered by Golf Pride Tour Wrap 2G grips provides maximum feedback. These are the grips you can use confidently.
The midsize grips fit right in your hands and are very soft and tacky, providing good swing with less pain for old players. At a reasonable price, these grips last very long and give a high-quality performance. The set contains all the materials like the solution, tape strip, and rubber shaft clamp—no need to buy these things individually.
---
The Karma golf grips have a good name in the golf industry as it makes quality golf grips in different sizes and colors. Different grips are available for old golfers, beginners, and pro players that provide a quality gaming experience.
Karma Arthritic Golf grips are also the best golf grips for arthritic hands. The oversized affordable grips are the best choice for people having fatigued hands, arthritis, joint pain, and weak hands. It contains large numbers of small and tiny micro nubs with raised full textured surfaces.
The unique texture of the grip decreases excessive grip pressure and offers a tension-free soft hold. The Jumbo size grip provides good control and ensures outstanding performance. Karma Arthritic Golf grips are one of the best choices that give a great feel and improved grip. The golfers searching for a 3/32" oversized grip for their arthritis hands would love to use them.
These best golf grips for arthritis by Karma are made up of an elastomeric material that offers adsorptive power and a good moist feel. The VDR rubber with good frictional force exhibits high performance in all weathers and even in the rain.
The wrist of the golfers is protected as it has a tremendous shock-absorbing rubber. The sung and soft feel of the grips attracts the golfers. It is effortless to install on your golf clubs, and it comes with a bundle of 13 grips that lasts for a long time.
---
Tacki Mac has contributed to the golf industry for 26 years, making excellent and exceptional grips in Texas. These oversized arthritic serrated Tacki Mac golf grips are a great option to make you play pain-free and get you back in the game. It is made from thermoplastic rubber, which provides a tacky feel to the grip.
The unique and best-serrated design and softness of the compound offer an excellent feel and control. For arthritis or old players, a serrated design is best because it gives a tight hold on the grip.
There are various tiny bumps for creating a rough surface on the grip that helps you maintain the grip without holding it too tight. It also reduces the pressure throughout the swing. Tacki-Mac golf grip is made very lightweight and easily fits in the hands. This grip has a friendly rubber type which is ideal for ladies as well. The comfortable, well-designed rubber allows lady golfers to hold the club comfortably.
For players having large hands or any pain, this grip is an excellent choice for them as compared to others. This grip includes 13 Tacki-Mac golf grips with grip tape and rubber vise clamp. The tacky Mac golf grips never lose their tackiness as long as the grip works. It gives them the confidence to make excellent shots to all levels of golfers.
---
The firmness and softness of the Champkey golf grips stand out among others. It is an affordable and easy-to-use grip, while you can adjust the hardness on your own. One of the good features of this grip is that it does not get too hard even if the temperature is below 27 degrees Fahrenheit, enabling the golfers to hold the grip more firmly on chilly days.
This rubber grip provides accurate feedback and reduces the pressure on the body and hands to give a comfortable swing throughout the shot. The outer layer of the grip is made from exclusive soft, tacky material (STP) that provides great astringent, feel, and comfort.
The advanced texture provides great stickiness and improved feedback. The thumb area consists of a "dragon-shaped" texture to increase the grip. The STP has the better shock absorption capability, and it is also the best choice for uncomfortable hands or players having arthritis.
Champkey STP grips have all-weather control, so let you enjoy the golf in any weather condition. It comes in various colors and is perfect for players who want to make their clubs eye-catching and attractive.
Champkey Golf grips come in various sizes including, Standard, Midsize, Core size, and Oversize. The package comes with 13 x Champkey STP golf grips and all repair kits.
The Avon Chamois Jumbo is probably the best Golf Grips for Arthritic Hands. Its air-cushioned shock-absorbing system and large size provide the best grip. It decreases the vibration and makes the swing less painful for your hand. It is made from durable rubber polymer suitable for larger hands, arthritis hands, and old golf players.
These grips are one of the best quality grips for arthritis players. It offers stunning comfort and control with immense quality. These grips have outstanding traction in wet and dry conditions. An Avon Chamois Jumbo golf grip takes the golfing to the next level.
The grip's ribbed texture allows the players to place their hands easily on the grip and provides consistency while playing. The golfers love the soft, supple feeling of the grip for arthritis relief. It helps to keep away the joint pains when playing the game.
With Air Cushioned shock absorption technology, this grip is suitable for all weather conditions. It comes in a bundle of 13 grips with no tape and solution, so you have to order them individually. You can also find the best tape for your grip by exploring the best golf grip tape.
Thickness is one of the critical features as it ensures good shock absorption to decrease inflammation. These grips are more flexible as compared to others which allows them to move and bend during gameplay.
It is our highly recommended golf grip for golfers having joint issues, arthritis, and other hand pains.
---
Lamkin Arthritic Grips are specially designed for arthritis players. The slightly large midsize cores and nubbed texture both minimize the tension. It allows you to hold your grip by promoting lighter hand pressure easily. By combining all these features, it makes the swing significantly smoother.
The minimal vibration and tension of the grip result in a long and comfortable round of golf. Lamkin Golf grips are making grips for an extended period and are among the original and best grip manufacturers. They know how to make the stuff better day by day.
Lamkin Arthritic grips are made from highly durable synthetic rubber, and the reduced grip taper allows gripping your clubs easily. The kit consists of 13 grips, grip solvent, strip tape, and a rubber vise clamp. So you don't have to waste money buying these things individually.
Using these grips, you can grip your club comfortably, and the reduced vibration keeps your hands free from pain. This grip comes with exceptional shock absorption capability and provides outstanding control.
The tackiness of these grips is permanent and performs remarkably even in the rain. That means you can easily use these grips in the rain or with wet hands. The thickness of these grips makes them the best choice ever. Lamkin Arthritic grips offer great moist resistance and shock absorption when driving.
---
How To Deal With Arthritis In Golf
Arthritis is a disease that has no permanent solution but can be controlled by regular treatment. The symptoms of arthritis include swelling, pain in joints, and restricted movement.
Stiffness and limited movement restrain arthritis patients from playing golf, but it is manageable somewhat.
Don't let arthritis stop you from playing golf. Golf is not only an exciting game but also beneficial for arthritis patients. Balance, strength, better movement, and coordination are what an arthritis golfer will experience by playing golf.
Regular exercise is better for arthritis. Exercise increases flexibility and helps the patient to do everyday activities more calmly. Aerobic exercise can improve body control and joint motion. So, through regular practice and exercise, an arthritis patient can continue his golf career.
Best Golf Grips for Arthritic Hands Buying Guide
Before you chose best golf grips for arthritic hands, you must consider the following factors.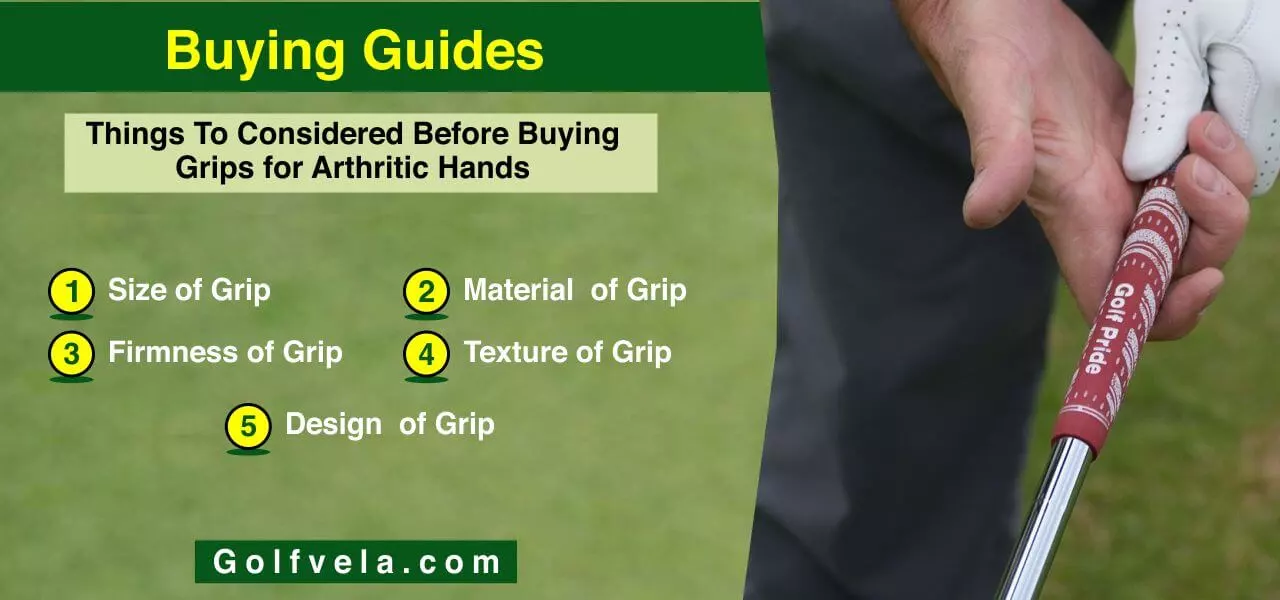 Size
By selecting the right size of the golf grip, you would be surprised to see a huge difference in your performance. It is a fact most golfers don't focus on this essential equipment. Though standard, midsize, and undersize grips are there to choose from, oversize grips are ideal for arthritic hands. The oversize grips require less pressure for swinging clubs; that's why it is the perfect fit for people with arthritis.
Material
Various material golf grips are available in the market, and everyone has their pros and cons. Leather grips are rarely manufactured now but are quite better for arthritic golfers. Other than leather, you can also select rubber and corded grips if suffering from arthritis. Don't go for composite grips as they become more slippery in wet weather or when holding with sweaty hands.
Firmness
When it comes to firmness, professional golfers choose firmer grips for swinging higher. Another advantage that firm grips offer is stability, but there is no better choice for arthritic hands than softer grips.
Texture
Grips are available in different textures, and the primary purpose of every texture is to provide a firm grip over the club. That would be better for the arthritis patients to select the heavy texture grips. With such texture, the golfers will not face slipping off of the club from their hands.
Design
Golf grips come in various designs, including symmetrical and round shapes. Most golfers use a ripped design that is more convenient to grip due to the ridge running down the line. But the design of golf grip is somewhat dependent on personal preference.
Conclusion
To help you find the most appropriate and the best golf grips for arthritis hands, here are few suggestions:
If you are a quality lover and searching for a perfect product, have a look at Majek Jumbo Tour Pro Velvet. It is our top pick because of its tremendous features. The jumbo size pack, thicker grips, and round shape make these grips an ideal choice for everyone.
No problem, if you are having less budget for buying golf grips, you can consider Golf Pride Tour Wrap 2G. This best budget golf grip has got many positive reviews from the customers, proving its efficiency.
The high-end golf grips on our list are the Lamkin Arthritic Grip. Though it is a bit pricey product, price doesn't matter when we look at its features.
Choose after proper consideration that will save you from later inconvenience.