Looking for the Best Golf GPS Watch Under $200 might be tricky, but we have made it quite easier for you. GPS smartwatches and devices have revolutionized technology for golfers. Golfers of any skill level can now measure their shot distances, yardage to hole, swing speed, etc, without any hassle. These GPS watches also tell you the distance to the green, doglegs, and hazards causing trouble to your shots.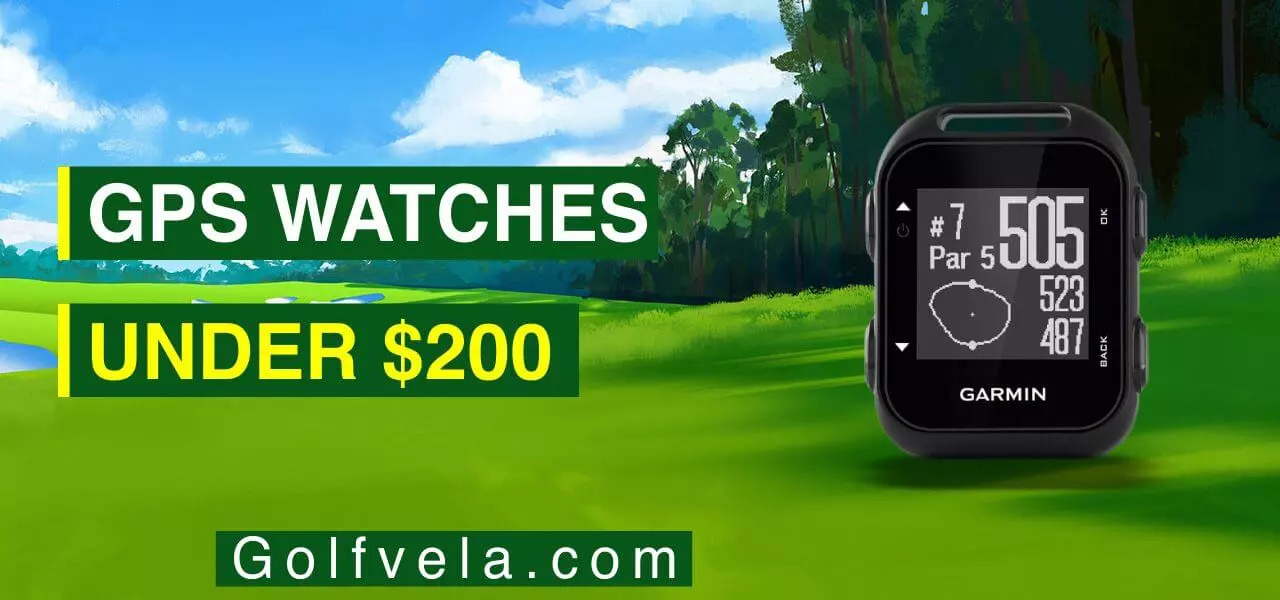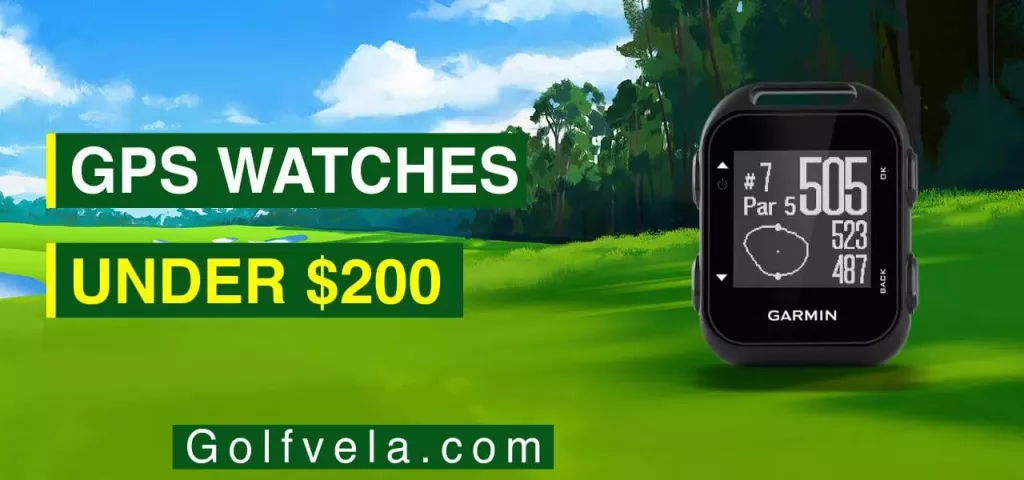 If you want to remove minor faults and improve your golfing skills, buy a high-quality GPS device for yourself. No matter if you have a low budget, you will still find the best golf watches under 200 here in this guide. We have provided all the necessary information about these best smartwatches with their pros and cons. The products on our list are manufactured by well-known brands, so you can buy them with full confidence. So, let's get started.
9 Best Budget Golf GPS Watches Review
We are showcasing here some of the best golf GPS watches under $200 that you can buy for the best golfing. On the basis of features, performance, and price, we have selected these GPS watches. As we are fond of using devices with innovative features, we want you to experience the same. That's why we focused on products with modern features that make you play like a pro. If you don't have budget issues then check out the overall best GPS Watches and best golf smartwatches.
Best Budget Golf GPS Watches Top Picks
Searching for quality watches in the market or any other place will take much of your time. But that's what our researchers can do with much ease because it's their routine task. We have listed the top-notch products in front of you after long hours of research. Read this guide thoroughly and then decide which GPS watch perfectly suits you and your needs.
Golf GPS Watches Under $200 Comparison Table
---
Garmin Vivoactive 3 is an excellent all-rounder smartwatch with a slim and lightweight design. It delivers multisport tracking, an all-day heart rate, and a GPS facility with excellent battery life. The beautiful Garmin Chroma Display screen of 1.2 inches that is easily readable in sunlight. You can safely use Garmin Vivoactive 3 during swimming, showering, and in all weather conditions.
The Vivoactive 3 is the first wearable smartwatch that offers Garmin pay facility. So you can now pay instantly with your watch if you forgot your wallet at home. You can easily download watch faces, apps, and widgets from the Connect IQ store. The Elevate wrist-based heart-rate technology helps in keeping you fit and healthy all the time. It tracks your heart rate variability, monitors your fitness and stress level.
It comes with more than 15 pre-installed applications. That means you can go for a bike ride, exercise, gym sessions, yoga classes, and do much more using this watch. The accurate GPS system allows you to record the distance, location, pace, and different other activities. Garmin Vivoactive 3 is a perfect playmate for all your activities from swimming to golfing and many other options in between.
When you are working hard or playing outside, just pair your phone with Vivoactive 3 and stay connected. Receive and respond to all messages, emails, and social media updates right on your wrist. Overall, the Garmin Vivoactive 3 is the Best Golf GPS Watch Under $200 with high-quality performance.
---
When it comes to Golf watches, Garmin is the market leader. Their entry-level model Garmin Approach S10 is also a great smartwatch that will really help you in golf. It is a fantastic golf watch with more than 41,000 preloaded golf courses. The course you are playing will be automatically identified using your GPS location.
This stylish and decent smartwatch is very lightweight, weighing just 1.23 ounces. You can wear it for hours with ease and comfort. It is very easy and simple to use this high-resolution display that is readable in all conditions. Its GPS provides very accurate results as compared to other smartwatches, which makes it the best golf distance watch.
The physical design of Garmin Approach S10 is pleasantly very simple. It has 4 buttons which are clearly marked. On the right side, there are "OK" and "Back" buttons, while on the left side, there are "Up" and "Down" buttons. The watch's size is also good, and the face is thin while its strap is unobtrusive even if you wear the glove.
The best thing to notice here in Garmin Approach S10 is its accuracy. It provides accurate yardages of the green from the front, middle, and back as well as doglegs and hazards. It keeps the record of when you have finished the hole and automatically displays the next hole's information. Moreover, it also keeps track of the time you have spent playing and the total distance you have covered.
The Garmin Approach S10 is equipped with a powerful battery that gives a backup of 12 hours. You can wear it for a long period of time with a single charge.
---
Garmin Approach S4 was one of the premium smartwatches with modern features. The stylish, lightweight, and compact design allows you to swing with precision. The strap holes present in this watch protect your hand from sweating, so you can play with ease. Enjoy 40,000 plus golf courses around the world without any payment. It comes with a fantastic battery backup that lasts for 6 weeks in watch mode and up to 10 hours in GPS mode.
The high-resolution touchscreen display is easily readable even in the sunlight. You can easily change the settings and switch between the features even with the gloves on. The screen tells you where you are on the hole and also the front, middle and back distances. Providing you quicker access to the dogleg, lay-up distances, and greens for making you play comfortably. It keeps the track of fairways that you hit left and right.
Garmin Approach S4 comes with a dedicated green view button which shows the green view screen quickly. You can move the pin manually to any location using the touchscreen.
Never miss any notifications like emails, texts, calls, and RSS alerts when you are in a game. The odometer of this smartwatch is used to see how far you walk. It provides detailed stat tracking for better game analysis. You'll love the incredible performance of this best golf GPS watch for under $200.
---
Bushnell Phantom Golf GPS is the latest golf device on the market. The lightweight and compact device offers a completely new perspective of golfing. It provides a visual aid to the golfers to view their surroundings. You'll get clear data about the distance of the center, front, and back of the green. The Bushnell Phantom golf GPS also determines the course you are in.
This smart GPS device comes up with up to 4 potential hazards in your course as you play. While making the way around the course, this hazard feature protects you from walking into sand areas or water. The nifty golf GPS device is preloaded with 36,000 plus courses in more than 30 countries. The device will move from hole to hole as you walk around.
The Bushnell Phantom Golf GPS comes in a square design with a 2 inches beautiful screen. Although it is small and lightweight but in terms of specs and features, it packs a mighty punch. It has 5 buttons, 3 on the left and 2 on the right side. You can easily attach this device to your belt or bag with its clip holder.
It measures your distance in meters or yards depending on your measuring preference. The professionals can enjoy playing the competitions as it is completely tournament legal. No need to worry about the charging as Bushnell Phantom Golf GPS gives 10 hours of battery backup per charge.
---
Are you searching for a reliable Golf GPS device that helps you in your gameplay efficiently? The Golf Buddy Voice 2 is a compact, sturdy, and lightweight GPS device you can carry around during gameplay. With a very affordable price to buy, it is one of the best golf GPS watches under $200. Golf Buddy Voice 2 is an upgrade of the popular device Golf Buddy Voice.
The new and improved Golf Buddy Voice 2 has a variety of features. It contains an easy-to-use interface and some other extra capabilities as compared to its predecessor. Golf Buddy Voice 2 shows yardages on the screen with a full view so you can read it easily. This phenomenal watch displays the distances from the center, front, and back of the green.
The Golf Buddy Voice 2 provides you a dynamic view of the green. It gives an accurate measurement of your shot distances. This GPS device has a unique audio feature, so you can know the distance without looking at the device. The 14 hours of battery life is perfect for long gaming sessions.
It features 40,000 preloaded golf courses, and you can consider it among the best golf rangefinder watches. The small clip at the back helps you attach it with the bag, cap, or belt easily. With its durable strap, you can also wear it on the wrist. It is a small device, so you can carry it with comfort and ease.
It tracks your distance, steps as well as the calories you have burned. With the help of the Golf Buddy application, you can control the volume, display, and find the device if it is misplaced. Golf Buddy Voice 2 comes with a 1-inch mono LCD screen that clearly shows distances and scores.
---
Garmin Approach G10 GPS device is packed with all the features a golfer might be looking for. Its sleek and compact design is lightweight, so you can take it comfortably with yourself when walking around the green. It is user-friendly as you can easily access all of its features. This means that the Garmin Approach G10 is a device definitely made for novice golf players. The affordable price of this device is also a great factor for beginners who want to improve gaming.
The feature that makes Garmin Approach G10 a premium brand is the distance measuring feature. It provides the individual yardage of each shot played anywhere on the green. The green view feature shows the layout of the green from every angle using manual pin placement.
With its stat tracking feature, it measures the distance of your shots, fairways, and number of greens. The built-in odometer tracks the total distance covered during the gameplay. It comes with preloaded 40,000 golf courses from across the globe.
Garmin Approach G10 is the best golf GPS watch under $200. It displays hazards like water or sand when navigating through the green so that your shots will also not be affected. You can conveniently attach the device to the bag or belt through the clip mechanism present at the back of the device. That's why you can quickly and comfortably access the device when needed.
This pocket-sized GPS device has a 1.3 inches display screen that is easily readable in sunlight. The device is waterproof, so you can use it in all weather conditions. The charging time is 1-3 hours, and you will get 15 hours of extended battery life.
---
Izzo swami 6000 is a compact GPS device packed with 38,000 preloaded global course maps with no subscription fee. It is the acme of Swami Line golf GPS devices. The 2 inches color display screen is very clear and vivid, which shows the distances with clarity. It provides precise and accurate distance to the front, center, and back of the green.
Izzo Swami 6000 provides the exact distance to hazards and doglegs, as well as carries distances. So you can safely play the game without going to places like water and sand. It also provides a digital scorecard so that you can save the record for overall analysis at the end.
Its integrated magnet allows you to securely attach your GPS device to any metal surface, such as a golf cart. Attach it to your golf bag or belt with its clip at your convenience. Also, it shows the distance of your individual shots so that you can know the yardage.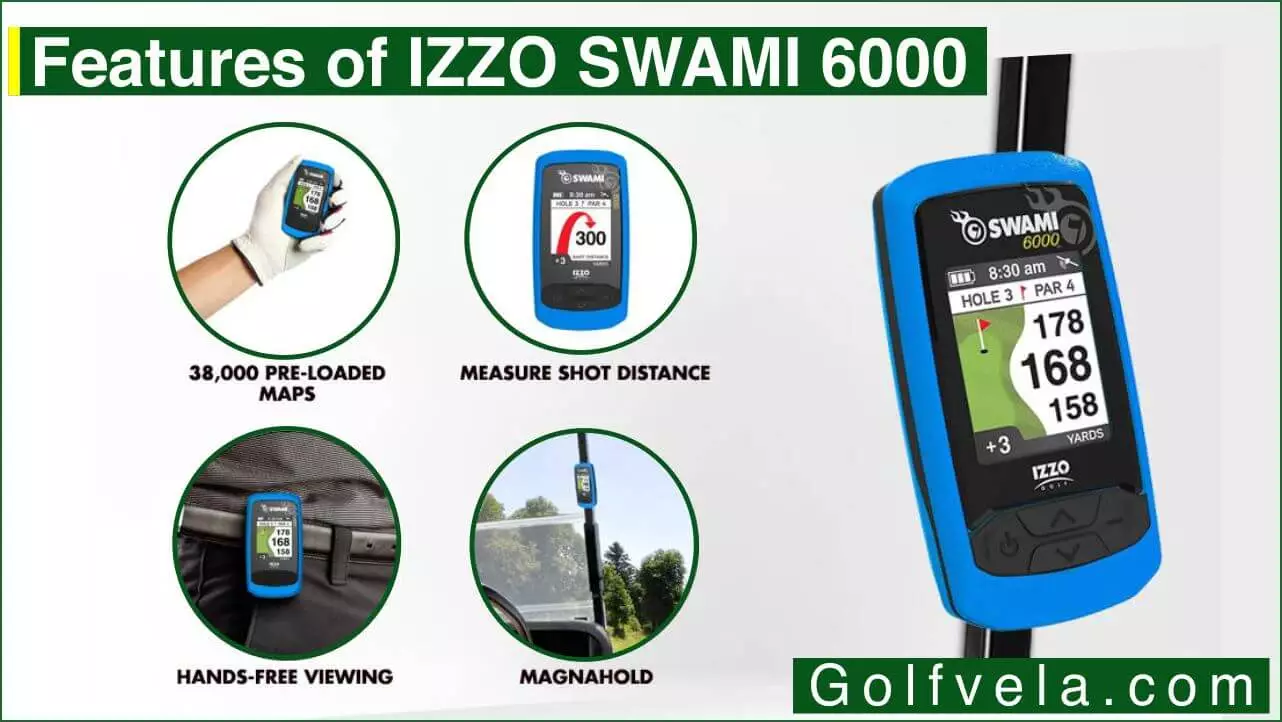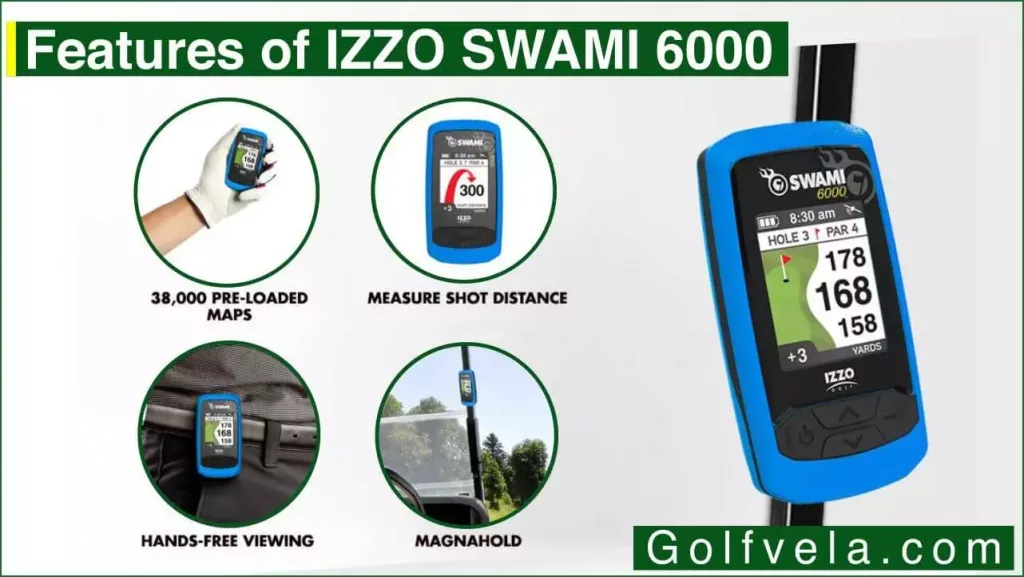 Izzo swami 6000 Golf device connects with the satellite very quickly and automatically tells you the course where you're playing. Having a lithium rechargeable battery that lasts for 16 hours while it detects the course holes automatically.
---
The Golf Buddy Voice adds a fascinating dynamic to the golfing arena. It is one of the affordable and most innovative golf devices on the market. The first noticeable feature of this device is that it talks to you. There is no need to look at the screen during gameplay. The automated voice feature also gives you the pertinent course and hole information at the push of a button.
This GPS device is very small and lightweight with a square design like holding a small post-it pad. It is just over half an ounce in weight. Carrying this device in your pocket or clipping it to your belt or hat is a breeze. It is preloaded with 8 different spoken languages.
The button on the front audibly tells you the precise distance to the front, back, and center of the green. There are 35,000 plus built-in courses that are added for your ease.
Pushing the speak button for the first time will tell you the distance of the center. Pushing it twice will give you the distance to the front. While pushing it 3 times shows you the distance to the back of the green. The Golf Buddy Voice has a lithium-ion rechargeable battery that recharges in a couple of hours and provides good backup timing. You can easily play 2 full 18 holes rounds.
---
Golf Buddy AIM V10 is a simple, superb, and high-quality device that is extremely compact and lightweight. It comes with a 1.2 inches screen size which is very handy for reading the findings. It has 40,000 preloaded courses in 170 countries, while you can also add your course via Bluetooth.
The Golf Buddy Aim V10 loudly tells the distances to the green's front, middle, and back. This multilingual device has 11 different languages, out of which 8 preloaded languages come with slope instructions. The battery life of Golf Buddy AIM V10 is 10 hours, and you can easily finish 2 rounds on a single charge.
The water-resistant feature makes this GPS device more worthy. You can safely use it in wet climates. The dynamic green view technology allows you to read the distances from the golfer's perspective.
Golf Buddy AIM V10 is a perfect companion for your putters and other golf accessories for both men and women. Its simplicity and easy-to-use interface make it the best laser GPS distance measurement device. The built-in pedometer of this device tracks your calorie score as well.
---
Conclusion
Garmin Vivoactive 3 is the top pick in this guide due to various reasons. It has many advanced features that ensure good performance. The affordable price and stylish design with advanced workout tracking make it worth buying.
Garmin Approach S10 is the best-rated GPS smartwatch with 41,000 preloaded courses. Provides accurate distances at 1.2 inches touchscreen, and it has a lightweight and compact design. Always shows accurate and precise yardages to the green and hazards. The 12 hours battery life and waterproof feature are noticeable in this watch.
Golf Buddy Voice GPS is the best budget and most innovative golf device with 35,000 plus golf courses. With 8 different languages and a lightweight design, it is portable and easily manageable during gameplay. It shows the distance to the hazards as well as to the green. The audio feature is also very interesting in this device.