Last Updated on October 25, 2022 by Ale Monti
If we talk about any single component that decides your shot in a golf game, it must be a golf grip. Golf grip is the only single accessory that remains in contact with you the whole time of your golfing. Moreover, it decides how you will hit the shot and win the game. So, it should be as important as other golf accessories, but very few golfers know this fact. Most of these grips won't fit in your hands properly because of their small size. For this purpose, we have compiled the best golf grips for big hands here.
To hit the ball properly according to your style, you must have optimized control over the grip. And to achieve this, you need to buy them according to your hand's size. If you have slightly bigger hands, then dig into this article because you'll find your relevant-sized grips here. You can also explore the overall best golf grips.
Our Recommendations
7 Best Golf Grips for Large Hands
If you are worried because your golf club's grips don't match your hands' size, just stop worrying. Here we are going to compare some of the best golf grips for big hands. You have to look at different factors like the length and the thickness of the grips.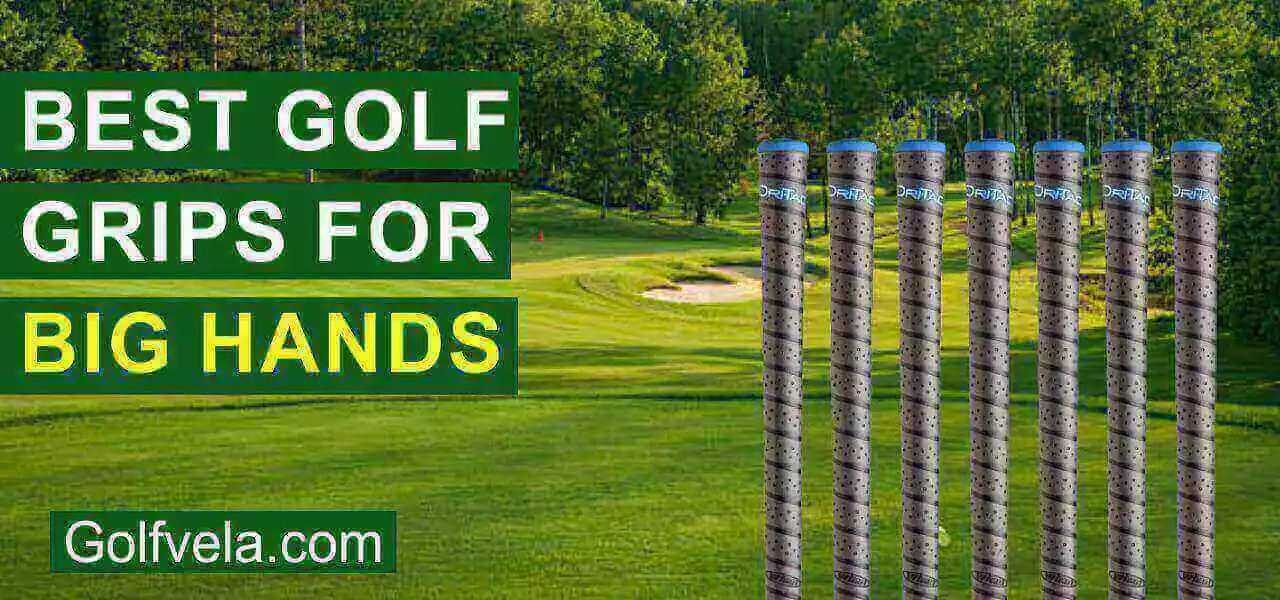 The length of the grip matters a lot if you have quite wider hands. However, if you have longer fingers, then you need to look for a grip with a higher thickness. Because in that case, you need a grip that doesn't make you poke your palms. Go through each of the grips listed down here, and choose what suits you the most.
Comparison Table
Are we talking about the best golf grips for big hands? How can we forget the Karma velour black standard grips bundle? Well, we obviously are not ignoring it to include in the list. If you are new to these things, then we won't recommend you to buy the most expensive ones at the start. Instead, you can give your career a new kick with these terrific Karma velour black standard golf grips.
Do you know what the best part about these grips is? Their wide range of size availability. Either you are a junior golfer or a grown-up professional, this brand has sizes for all of you. They have five different sizes for every age. These are for juniors, ladies, a standard one, a midsize, which is +1/32 inches, and a jumbo size with a measurement of +1/16 inches.
The top reason for their popularity among the professionals is their classic grip design. Their popular pattern is something that represents the name of the brand. An amazing twist here is that you don't have to buy them if you are not much into their classic textured ones. They also have the ribbed version available for people like you, which you'll definitely love.
The soft rubber material is super easily cleanable. So, whether you've played it in summers or dusty weather, you can clean it in a swipe. Moreover, the best part here is the number of grips you get at this price. They provide you 13 of these, so you have a stock for a long time with them.
The variety of color options also make it the top choice for girls. Further, professionals can also choose formal colors like the black or the black-white hybrid one.
---
Golf Pride CP2 Wrap golf grips are best for pro golfers as well as young enthusiasts. Golf Pride is the name of the brand, which has a renowned place among the golfer community. They are known for manufacturing some of the best golf grips for big hands. Upgrade your drivers with these CP2 wrap grips and enjoy your game.
They come in three size options, which are undersize, standard size, and a jumbo one. The standard one is suitable for the usual hands. But for the bigger hands, you need a jumbo-size.
If we talk about the texture of these grips, then you won't be disappointed by their quality. The incredibly soft rubber material is something your hands crave for while hitting the ball. Not only does it give comfort while doing your shot, but it also provides traction.
The exclusive feature of these CP2 wrap golf grips is their control core technology. This fantastic technology lets you hit the ball with minimal torque, i.e., almost 41% less. The coreless grips won't let you enjoy your game because of unwanted torque. If you like to hold the stick with bare hands, then these grips are best to have.
You can easily clean it because of its soft rubber material. Moreover, with this grip, you don't have to restrict your game in any specific weather. The material is water-resistant so that you can enjoy your game even in humid weather conditions. The decreased lower taper design allows the holder to hold with a firmer grip. If you are playing mostly in humid weather then check out the best golf grips for humid weather.
---
Champkey STP Comfortable Grips are another addition to the list of the best golf grips for big hands. You can buy these grips in different sizes. Yes, they are also available in oversize. With these grips, you do not have to worry anymore. These grips might be slightly expensive, but they do what they are really meant to do.
You must be wondering what makes these grips one of the best grips available in the market? STP grips have an innovative design with two different types of material. Champkey uses a soft rubber material for the inner tube of these grips. On the other hand, they make the outer tubing with a polyurethane-based material.
Both these outer and inner tubings offer you some different and unique properties. The inner rubber material reduces pressure and thereby offering you a smooth grip. The outer polyurethane material is relatively harder, and it gives you that feel you are looking in a grip. Champkey has designed this grip by keeping tackiness as a priority.
Furthermore, Champkey STP golf grips have advanced texture control. The cross-shaped texture on the grips' back offers you enhanced comfort and feel. Also, its texture lets you hold the club with much more stickiness and reduces the chance of slipping. Therefore, this grip is suitable for every kind of playing condition.
You can stay worry-free with these grips from Champkey as it promises a 100% money-back guarantee and also promises great customer service. Not to forget, these grips are available in three different color themes. Black with grey, black with blue, and the preferred theme, "Patriot," are truly amazing to look at.
---
Another valuable addition to the ongoing list of best golf grips for big hands is this Winn Dritac Wrap oversize golf grip. If you have some interest in the biology of life, then this grip will be the most captivating one for you. The reason is its double-helical DNA-like texturing on its surface. The affordable price makes it the best option for the youngsters who want to build up their skills.
The three color options (grey, dark grey, and copper) are available from which you can choose your favorite one. The best feature about the Winn grips is their advanced WinnLite technology. This technology gives an extraordinarily comfortable and lighter feel to your hands.
Winn prioritizes the comfort of its customers. They design these grips with a Winn dry polymer material. The advantage of this technology is that you don't have to wear gloves while holding them. Their exclusive textured body will remain dry without making your hands sweaty. Moreover, it will not slip from your hands because of this dry polymer technology. If you are looking for a grip to use without gloves then here are the best golf grips for no gloves.
The dry polymer design and the soft rubber make it suitable to use in every weather condition. From multiple size options: the standard, midsize, and the oversize, you can easily choose yours. So whatever your age is, and your hand size is, Winn Dritac Wrap golf grips have got you covered.
This golf grip is super easy to install on your club driver. Still, if you find it difficult, you can watch the online tutorials for its quick installation.
---
Here is another superb option from the Winn golf grips. This Winn Dri-Tac Wrap golf grip in jumbo size is a perfect option for people with big hands. So, this one can also be included in the list of best golf grips for big hands. With gloves or without gloves, these are super comfortable to hold in hand and hit the ball.
It is available in multiple sizes. However, today our discussion topic is golf grips for big hands; that's why we'll talk about the jumbo one, which is about +1/8 inches in size. If you are worried that the jumbo size will also have a jumbo weight, your concerns are wrong. It only weighs 50 grams. So, you can conveniently play golf for a long time without tiring your hands.
People who feel comfortable holding the round core they'll love this one. It has a rounded core with 0.06 inches size measurement. The core allows minimizing the overall torque while hitting the ball.
The wavy DNA strand-like texture over its surface gives a firm grasp in your hand. So, it gives you complete control over your shot and how you hit the ball. The unique texture is suitable to use in every weather condition. Moreover, they manufacture these golf grips in two colors, i.e., grey and copper. So choose the one you like the most or according to your club and enjoy.
The installation process of this grip over the driver is super easy and quick. If you don't know the procedure, then the installation guide pamphlet will help you.
---
Winn is a big brand when it comes to golf grips and equipment. Winn DriTac Oversize grips have a unique triple design texture. Their amazing build quality makes them one of the best golf grips for big hands. Most importantly, you will not have to worry if you are right or left-handed because they are ambidextrous.
These grips have an AVS style with a core size of 0.6. These grips are quite lightweight as well and weigh only 50 grams. Their oversize makes them a perfect fit for big hands. Its design is also really attractive. Its honeycomb, crosses, and crescent type design will indeed turn some heads. In short, these grips are all in one package with features as well as looks.
Also, these grips are suitable for you if you have arthritis in your hands. ( You can also find the best solution for your arthritic hands By Visiting the best golf grips for arthritic hands ). These grips are very soft and are available in two different colors; navy blue and grey. Usually, you can buy these grips individually, and therefore you can have a customized range of grips for all your clubs.
Winn is a pioneer of polymer grips, and therefore these grips also have a polymer material. Its multiple polymeric compounds make it slip-resistant. These grips will outperform most of their counterparts and will offer you a wide spectrum of firmness. Its soft feel will also let you play for extended times in the field.
Winn has designed these grips with consideration of not only bigger hands but also comfort. These grips offer you a maximum amount of shock absorption. Also, they have ultimate comfort and tackiness. Not to forget, these grips are going to serve irrespective of the weather conditions.
---
It is impossible to keep the Golf Pride tour wrap 2G Grips out of the best golf grips for big hands. Golf Pride has been manufacturing grips for every kind of customer for quite a long time. You can find these grips in multiple sizes, also jumbo. Tour Wrap 2G jumbo is available in four colors: black, red, blue, and white.
These grips have a hybrid kind of material with rubber and cord. Hence, it has quite a stable and extended life. The rubber lets you hold the grip with firmness, and the cord gives you that feel you are looking for. Tour Wrap 2G has enhanced tackiness, thanks to its soft material. Golf Pride also promises you a durable grip despite its softness.
Moreover, this grip has a luxurious leather-type look with an ultra-performance high-tack rubber material. Wrap 2G comes as a single grip and is easy to apply as well. These grips can withstand all weather conditions, summer, winter, or rain. However, too much heat might be a bit dangerous for them.
Tour Wrap 2G jumbo has a decent weight of 73 grams with a core size of 60 Rounds. Also, it has quite a decent texture. Those grooves circling down its length make it grip firmly in your hands, thereby decreasing slipperiness. Furthermore, the raised ridge also ensures alignment and consistency in your holding position.
You can easily find these grips in a pack size of 13. Also, they come with all the required material that you need to apply these grips. Wrap 2G grips are amazing with or without gloves. They are stable and will not come out of the handle during playing.
---
Best Golf Grips for Big Hands Buying Guide
Buying a grip that fits your hands is essential if you want to up your game. You might not believe it, but even a fraction of measurement can make a huge impact. If your golf club grips have the wrong size, you will not have perfect control over the club. Also, you might not be able to guide the ball over the ideal trajectory.
Therefore, if you want to improve your golfing skills and control over shots, choose the correct grips. It is essential to have a grip that matches your hands. We are here to guide you through your quest to find the right grip for your hands. You need to account for some factors to help you select the best golf grips for big hands.
Hand length
First things first, you need to measure the size of your hands. There are different ways through which you can measure the size of your hands. You have to measure the size of your fingers as well as your whole hand. You can do it by following these guidelines:
First, you need to measure the size of your glove shaft. Measure the distance between the tip of your middle finger and the deepest crease of your wrist.
The length of your longest finger will tell you the circumference of the grip.
You can use these easy measurements as the first reference point to give you an idea. Afterward, you can also try a slightly smaller and somewhat bigger grip. It will help you to choose the grip which makes you feel comfortable the most.
Hand width
The width of your hands is also quite crucial when you are choosing a grip. If your hands are quite wider, you need a grip that fits your hands. You can measure the width of both hands. You can do so by just making a punch. Try to measure the width of it, including your thumb. Repeat the procedure for both hands.
Indeed, it will be better if you also add a couple of extra centimeters to the overall measurement. In this way, you will also be able to shift the position you hold your golf club. For example, some like to hold the club from a bit top position for hitting big shots. Similarly, they hold it a bit away from the top edge of the club when hitting nearby shots.
Hand Dominance
Either you are left-handed or right-handed will also help you in choosing a grip. If you are right-handed, your left hand will be your upper hand. However, if you are left-handed, your right hand will be your upper hand. Therefore, looking at hand dominance is essential in choosing the golf grips for big hands.
Translating hand measurements into the grip selection
A correct grip will feel just right in your hands. When you are holding a grip, your longest finger's tip should be touching the bottom of your thumb. However, if the grip is smaller, the same fingertip will be poking your palm. Therefore, try to check for it, and if a grip does meet this criterion, it might be the right one.
Holding style
The way you hold your golf club is also quite critical in selecting the right grip. Some players like to hold the club with a firm grip. On the other hand, some players prefer a rather loose grip. Hence, it is essential to take into account your holding style.
If you like a firm grip, it is advisable to have a couple of extra millimeters in the circumference. In this way, you will not be poking your palm. Instead, you will be holding it with complete comfort. Indeed, holding style will matter a lot in choosing the best grips for big hands.
Grip customization
A lot of players use customized grips according to the way they want. Therefore, you can always further customize grips according to your needs. Some players add some golf grip tape to the top of the grip to have extra length. In this way, they can easily shift between the positions and adjust according to the shot's distance.
Therefore, you can also add some tape if you need a grip with some extra length. Also, you can use some tape on the handle before putting on the grip. In this way, you can get some extra circumference and better hold onto your golf club. Never forget, a grip is only better if it makes you feel comfortable and gives you control.
Grip type
Three major types of golf grips that are suitable for big hands are:
The interlock grip
The overlap grip
The ten-finger grip
The interlock grip is useful for those players who have bigger hands but shorter fingers. These are also useful when you don't like to use too much force. This grip allows you to use both hands simultaneously.
In this way, you get a better grip and control over your golf shots. However, you might have to trade off the flexibility if you interlock your fingers too tightly. Therefore, you need to be careful, and a bit experienced to use this kind of grip. Anyways, this grip is one of the best grips for players with bigger hands.
Another amazing grip is the overlapping grip. You can also associate this grip with a legendary player, Harry Vardon. In this case of overlapping grip, you overlap some of your lower hand's fingers onto the lower half of your upper hand. In this way, your hands take a little less space, but you also get flexibility and control.
The ten fingers grip is useful for players with either small or big hands. However, it is quite friendly if you are a newbie in golf and lack muscle power. Also, it helps you to square the clubhead. However, make sure the grip is long enough to fit both hands; also, if it has enough room for you to shift your hands towards or away from the top of the club.
Conclusion
So, let's sum up this long discussion after a quite detailed review. Now, as you have read the whole article, we hope you have found your golf club's grip. Few of you don't want to read the lengthy, detailed review. So, don't worry, we have done work for you too. We have a few recommendations from our professional golfers. Look into these and choose the one for you.
First of all, Karma Velour Black Golf Grip is our top pick among all others. The reason for choosing this one as top-rated is because it is available in multiple sizes for all ages. Apart from several excellent features, it's still not much expensive, which makes it the number one.
Next up, we have a recommendation for the best budget golf grip for large hands. Winn Dritac Wrap Oversize Golf Grips is best suitable for this title. Not only is it budget-friendly, but it also has some fantastic features that you can read in the detailed review above.
Last but not least is the high-end one, Golf Pride Grips Tour WRAP 2G Jumbo. It is pretty expensive, but it is a fact that the more you pay, the more you'll get. So, if you are a pro golfer, then amaze your audience with this terrific golf grip.
We hope you have found the best golf grips for big hands here; buy it, install it, and enjoy your game.