Last Updated on October 22, 2022 by Ale Monti
In this technological era, why not have a device featured with recent technology in the golf course too. Now you don't have to take the stress of estimating the actual distance of flags. Because now you have the option of GPS and laser rangefinders. And having both these features in a single device is a real treat. So in this article, we will discuss the Best Hybrid Golf Rangefinder.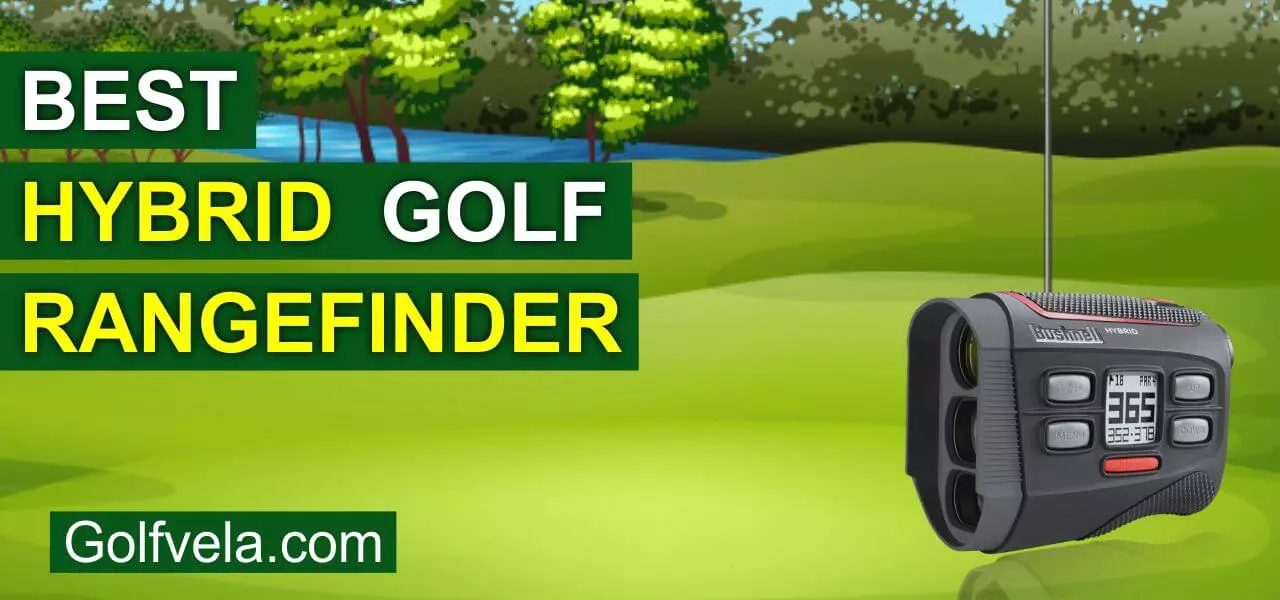 A lot of companies are manufacturing such devices. Here we have chosen a few of the best ones. You can find your best hybrid golf rangefinder here. The best hybrid rangefinder should have dual rechargeable options. So anytime while playing, you won't face power shortage issues. Moreover, it should have a design that can bear any weather, either foggy or rainy. The PinSeeker jolt technology is also an important feature to look for. You can also visit the overall best golf rangefinder here.
List of Best Hybrid Golf Rangefinders
After spending hours and days searching for golf devices, here we are with our list. If you are a little too conscious, then you can do your research. But, if you don't have much time, then here is the detailed review. Also, our team of experts has personally tested these devices so you can choose the best one. And if you are looking for something under your budget so you can visit the best golf rangefinder under $300, under $200, under $150.
If you are a real golf enthusiast, then you should read the complete article before buying. However, to save extra time, you can take help from this comparison table and the conclusion section.
Top Pick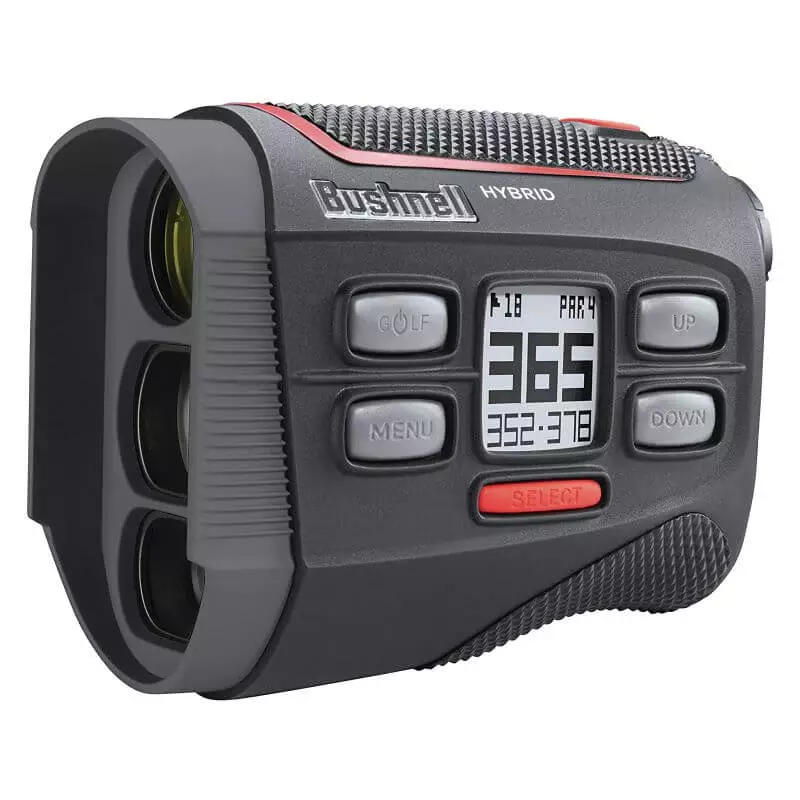 Budget Friendly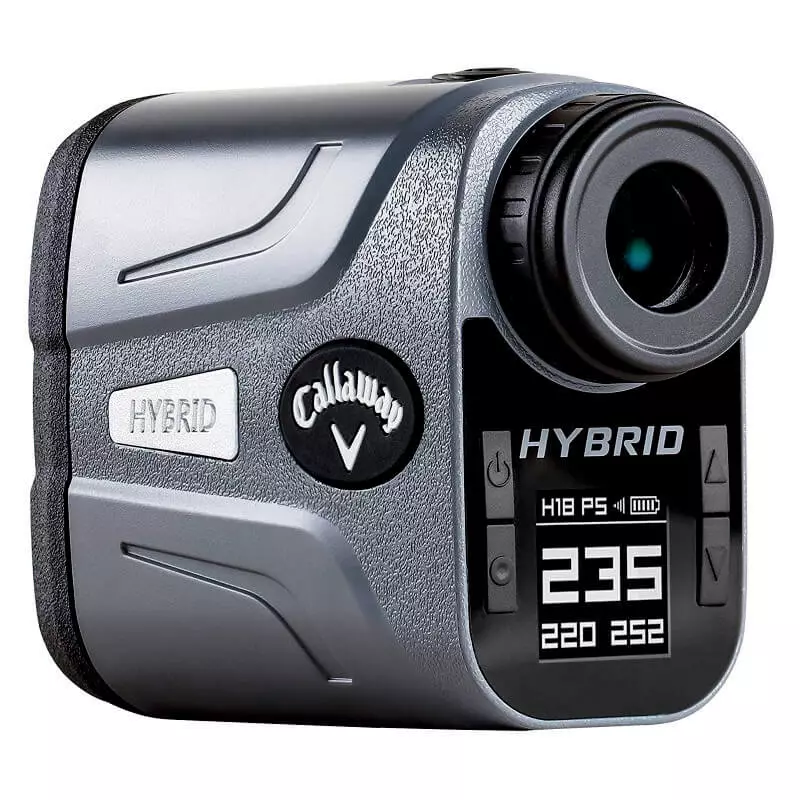 Comparison Table
In the table below, each one is the best hybrid golf rangefinder in its way. You only have to select the right one according to your need.
Image
Product
Details
Price
Bushnell Hybrid Golf Rangefinder
Display: Dual Display Technology
Item Weight: 12 ounces
Range: 400 yards
Magnification: 5X
Dimensions: 4.2 x 3 x 3 inches
Check Price
GPS Rangefinder Bundle
Display: Dual Display Technology
Item Weight: 8 ounces
Range: 1000 yards
Magnification: 5X
Dimensions: 3 x 4 x 1.5 inches
Check Price
Callaway Hybrid Rangefinder
Display: LCD
Item Weight: 7.68 ounces
Range: 5 – 950 yards
Magnification: 6X
Dimensions: 3.8 x 2.75 x 1.5 inches
Check Price
Voice Caddie Golf GL1 Hybrid Rangefinder
Display: High Clarity Lens
Item Weight: 16.64 ounces
Magnification: …
Dimensions: 8 x 6 x 4 inches
Check Price
---
Bushnell hybrid golf laser rangefinder comes with GPS to ensure accurate measurement of your target. Furthermore, you will get built-in 36,000 courses that you can update wirelessly via Bluetooth.
Are you looking for a Golf GPS and a laser rangefinder in a single device? Here is your problem solver Bushnell hybrid golf laser rangefinder + GPS. Bushnell is famous for manufacturing golf-related devices. It's the first time that you can have both of these features in a single product. So, you can say it is the best hybrid golf rangefinder.
It has a PinSeeker with jolt technology, which further removes all the doubts. When the laser finds the flag's exact location, you'll feel the jolt, which increases the precision. Furthermore, it has a dual battery source, each for one purpose. To recharge the GPS, it has a USB port, while for recharging the laser device, it features a CR2.
Here's an exciting deal for you. With the purchase of this hybrid golf rangefinder, you'll get free access to the Bushnell golf app. The exterior GPS readout will provide a complete flyover of holes with the frontal, central, and back hazard distances. Also, the LCD will give you a full layout of all the holes with labeled distance.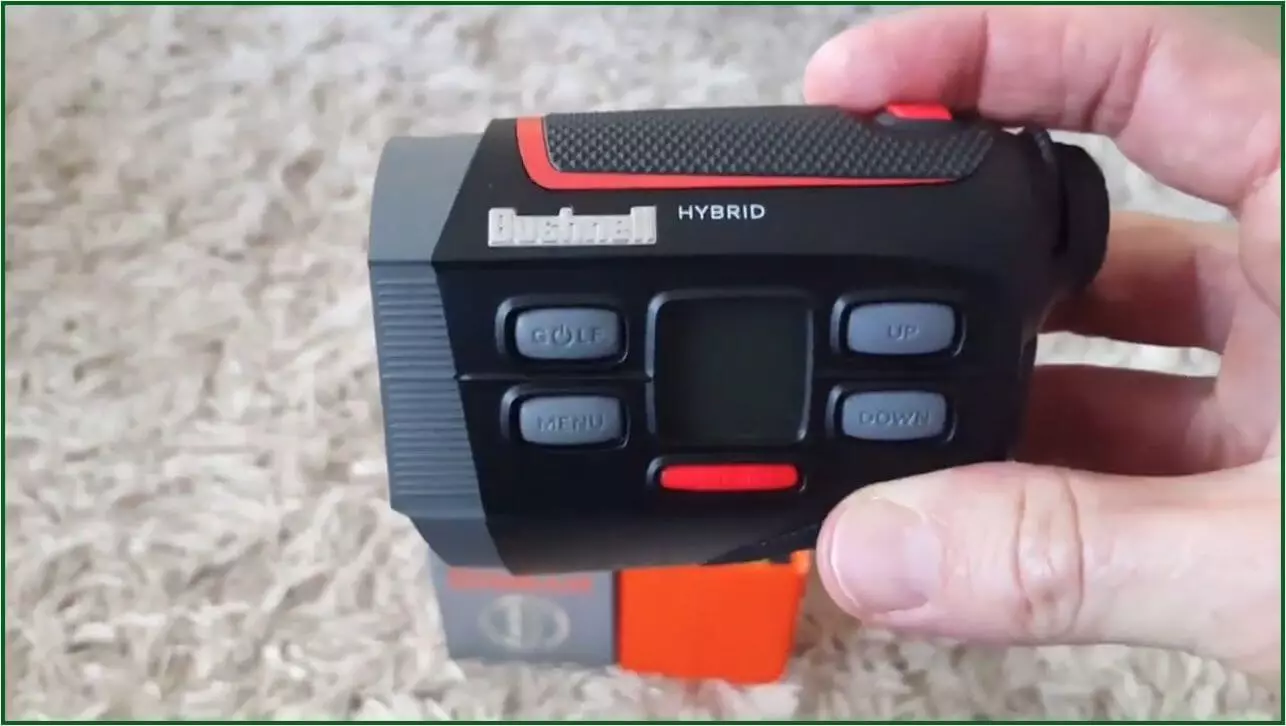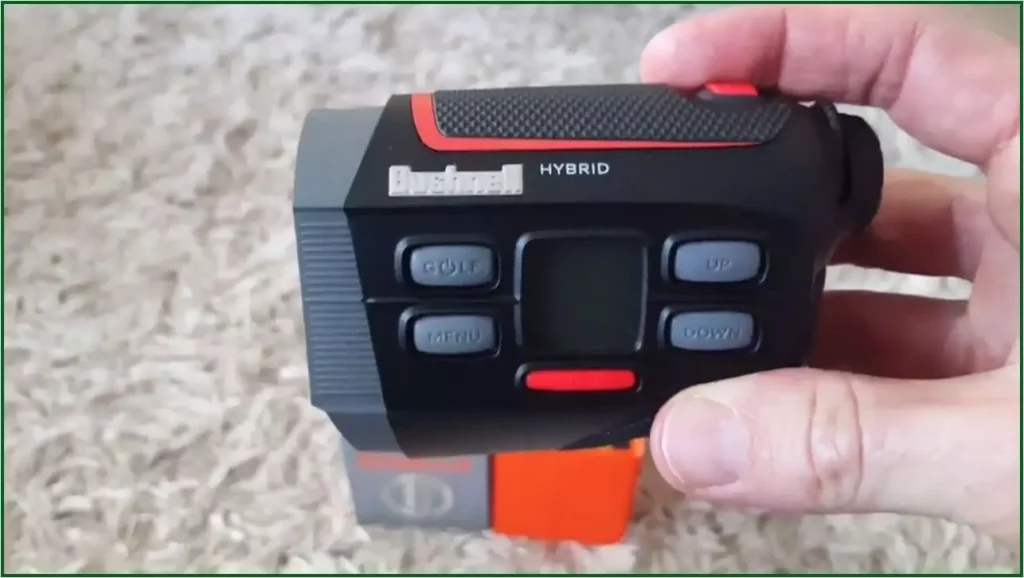 This hybrid golf rangefinder provides you with 400 yards of the flag range. With up to 1 yard accuracy, you can play your golf like a pro. This hybrid golf device can auto recognize the course and also auto hole advance.
This device comes with built-in 36,000 courses. The best thing is that with the Bluetooth connection, you can easily update these courses on your rangefinder wirelessly. It has an easy button layout that you can understand and use easily.
---
Related items Review: Best Golf Rangefinder Holders
While having this hybrid golf Laser/GPS rangefinder, there will be no need to buy any accessories as everything comes together in this kit. With 5x magnification, you can target your aim up to 1000 yards.
Here comes a bundle deal for you people. Now instead of only buying a single hybrid golf rangefinder, you can get an exclusive bundle deal. Along with the hybrid golf Laser/GPS rangefinder, it also includes several other accessories. This whole kit consists of a carrying case, PlayBetter portable charger, two CR2 batteries, a lens cloth, and a cleaning towel.
The dual battery options for GPS and laser saves you from battery shortage issues. This best hybrid golf rangefinder is a combo of both the GPS and laser. So now it is the best way to polish your game because of the accurate estimation.
The 5X magnification power of the lens allows locating the accurate holes. The PinSeeker with jolt technology gives further precision by providing a jolt whenever it finds a hole. It provides you an accurate map of the course and holes up to 1000 yards. Additionally, it features auto course recognition and auto hole advanced technology.
This hybrid golf rangefinder provides a course layout via its central, front, and back easy-to-read maps. It gives you a clear map with up to four hazard distances per hole. Moreover, the portable battery keeps both your phone and the GPS rangefinder fully recharged.
In weather like rainy or foggy, the PlayBetter microfiber towel acts like a hero. Its soft-touch keeps the lens away from scratches and also keeps it clean and crystal clear. This device comes with about 36,000 preloaded courses from worldwide golf courses. So if you are searching for the best to invest golf rangefinder kit, this one is the best. And if you are looking for beginners products so you can check out our guide about the best golf rangefinder for beginners.
---
This Callaway Hybrid Rangefinder comes with GPS and Laser, making it easy to target your aim up to 950 yards. Besides, it has built-in rechargeable batteries; each can last for up to 8 hours.
For golf enthusiasts worldwide, this Callaway Hybrid Laser GPS Rangefinder is the best device so far. It is a 2 in 1 GPS + Laser rangefinder but in such a compact design, making it the best hybrid golf rangefinder. Not only in terms of the hybrid specs but also its price makes it affordable for most people. And if you are facing handshaking issues while playing golf so you can check the best golf ranger finder for shaky hands.
The easily understandable LCD screen gives an accurate and precise estimation of the holes. Before the swing, this screen displays all the necessary details and information. It helps to estimate the distances to the front, back, and center of the green. Moreover, this device helps to keep an accurate measure of the doglegs and hazards on the hole.
This hybrid rangefinder features a pin acquisition technology with 6X magnification power. So with a wide range from 5-950 yards, you can pin up to 300 yards with precision. The extra treat is that this hybrid device comes preloaded with about 38,000 worldwide golf courses. You don't even have to pay any fee for the subscription to these courses.
The dual power design is a lifesaver for people who love to have non-stop playing hours. The built-in rechargeable lithium-ion batteries give you the companionship of about 8 hours. So, from now on, you can outshine your opponent's game in the field. Just make this Callaway hybrid laser GPS rangefinder your golf partner, and you are good to go.
This hybrid rangefinder has resistance against fog and water. So, now you can play in any weather without getting worried. Moreover, for further protection, it comes with a safety bag. The premium molded case will protect it from severe weather conditions.
---
This Voice Caddie Golf Rangefinder features a GPS pin assist that vibrates when the target is set. Besides, you can enable or disable its slope feature as per the requirement of your game.
So here we are with a high-end and the best hybrid golf rangefinder. This Voice Caddie Golf GL1 hybrid GPS laser rangefinder is a little expensive than the other ones. However, the excellent features of this device won't make you regret your investment. You can call it the true GPS/Laser golf rangefinder.
It features a GPS pin assist, which uses GPS data to screen the background. Moreover, as soon as the pin captures its target flag, you'll feel a sudden vibration. This vibration will let you know about your target hole in the ground. Also, this device works on the continuous scanning mode. So it keeps scanning the whole map of holes within the site.
This two-in-one GL1 hybrid utilizes both of its features well and gives the right estimated distance. It strictly calculates the distance to hazards, pins, and bunkers. Its high-quality features make it the best golf rangefinder hybrid device.
Depending upon the tournament and your playing course, you can optimize its settings. You can enable or disable the slope settings according to the requirement of your game. Also, its customizable settings give you a free hand to utilize this gadget accordingly. Additionally, it comes with a set of lithium-ion batteries. So powering it back in the case when it becomes dead won't be an issue.
This high-end hybrid rangefinder features a waterproof lens. So even in the foggy winters or rainy weather, it will perform best as usual. Apart from being waterproof, the lens is of high optical quality with high clarity. So, if you are finding a real high-quality hybrid golf rangefinder, then it is one of them.
---
Conclusion
On an ending note, it is not difficult to find the best hybrid golf rangefinder. You just need to find the best for yourself according to your needs. The market is flooded with various golf rangefinders, hybrid, or with single features. This article has surely guided you to find the best hybrid rangefinders.
Our team of experts recommended Bushnell Hybrid Golf Rangefinder as a top pick. Because of its impressive features and the reasonable price, it is not wrong to call it the best one among the other three.