Last Updated on October 26, 2022 by Ale Monti
It is a fact that a golfer doesn't require all the golf gear every time. Here comes the need for the best Sunday golf bags that are lightweight and easy-to-use than regular bags. As these bags are often inexpensive, so a person with low budget can also make a choice easily. The fascinating features of such bags are their durability, versatility, and convenient handling. Up to 6-7 clubs comfortably fit in the modern bags which makes them a more reliable option for routine golfing also.
The best Sunday golf bags are grabbing the attention of modern golfers because these compact bags include maximum features. The advanced Sunday bags come with padded shoulder straps, stand, and carry handles for ultra-convenience. Though these bags are lightweight but made with durable materials. So, cutting the long story short, whenever you can't drag a heavier bag around the course, use the Sunday golf bag.
Our Recommendation
Best Sunday Golf Bags
Are you getting confused about which Sunday golf bag to buy as there are a plethora of options available out there? Don't worry, it is a normal issue that many people face and end up concerning experts for their valuable advice. You can trust our expert researchers' choice because they check even the minute details of every product by doing in-depth research.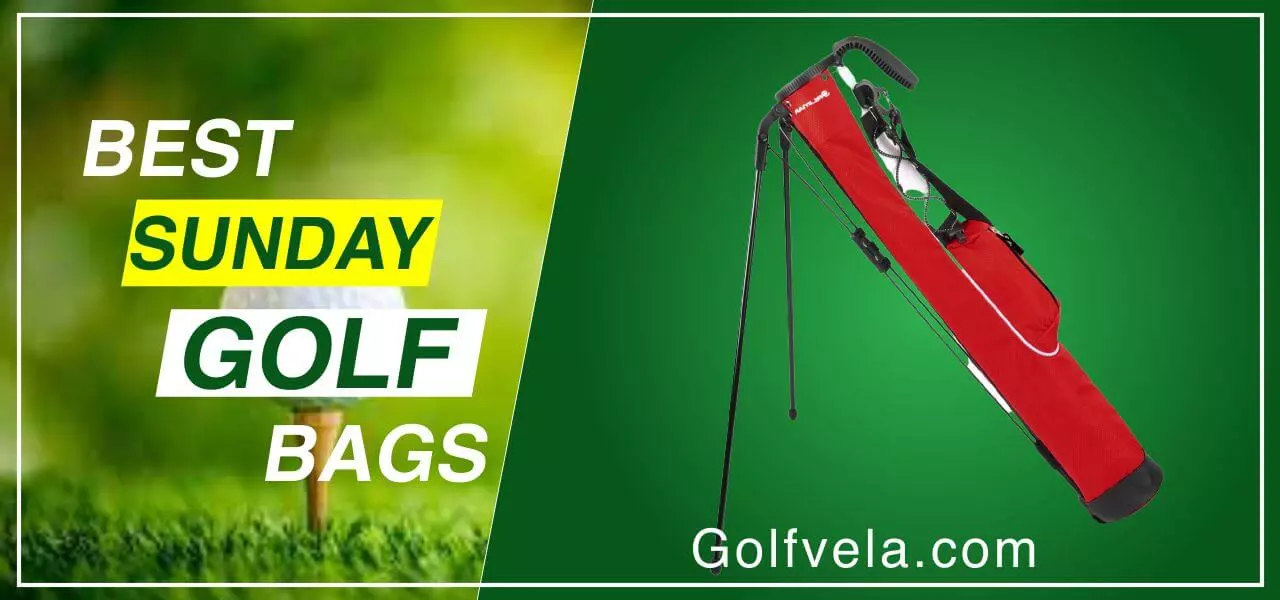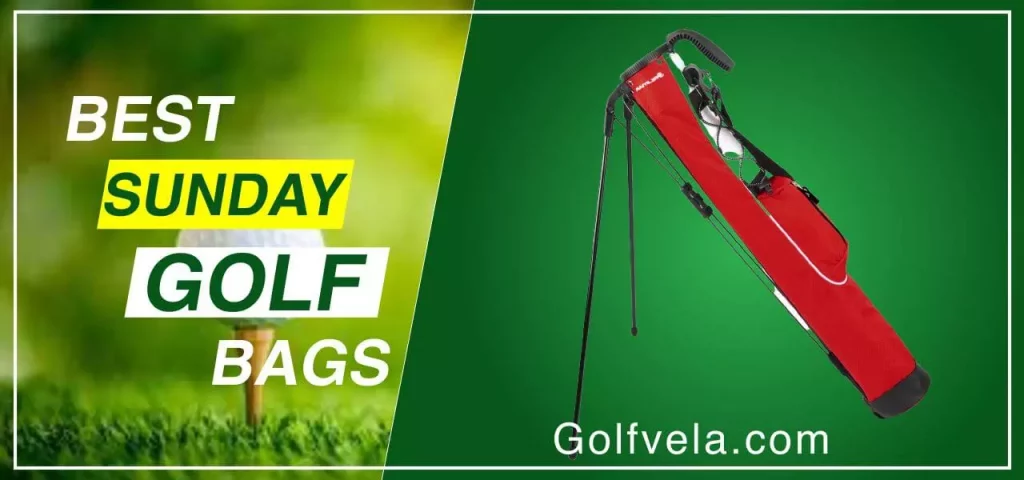 We prefer golf bags with numerous positive customer reviews because it shows how useful these products were for other users. Moreover, top-brand products are always our preference because of their high-quality material and construction. You'll love the sturdiness and lasting nature of our selected bags.
No matter you are a beginner or a senior golfer, you can use any of our enlisted bags. Their versatility is what makes them equally ideal for every level golfer. So, review the article and see, if any of them fulfill your requirement.
Comparison Table
---
If you want to purchase one of the best Sunday golf bags at a minimal price, then Orlimar Pitch and Putt golf bag is a great option for you. Though it is an affordable product yet comes with all that you might be expecting from a Sunday golf bag. Weighing only 1.95 pounds to let you walk from hole to hole without strain.
One amazing feature that will really attract you is the retractable legs designed for providing proper support to the bag. You can fold the stand when not required. Along with that, this best golf Sunday bag is super convenient to pick because it has a shoulder strap and sturdy carry handle.
Now we'll talk about its storage capacity. The two compartment top can adjust 6 or 7 clubs comfortably. The divider keeps your clubs a bit separated, so they don't rub against one another. Obviously, it couldn't compete with the 14-way top of the regular golf bag but keeps your clubs safe and combined in one place.
The accessory pocket can fit in tees, balls, and ball marker easily while a pocket for water bottle is also available.
---
5″ Sunday Bag, Lightweight Carry Bag is the best Sunday golf bag which is beneficial not even when in use but also when not in use. You can easily store it in any car trunk, camper, or trailer because it doesn't require much space for storage. And, it folds neatly, so on next use, it will seem as you recently bought it. The polyester construction is durable and is super light. It is a perfect option for both the executive course and driving range. So, whether you're a junior golfer or senior, it is equally ideal for everyone who is irritated by carrying heavier bags.
If you want to take more clubs, you can, because it fits more in limited space. The 2 zippered pockets and 1 mesh pocket give ample space for accommodating all the necessary golf gear. Allowing you to keep tees, balls, divot tools, and other stuff to make your golfing an enormous experience.
The carry handle at the side helps you instantly grab the bag to move around the course. Also, the padded shoulder strap offers comfortable carrying and doesn't strain you.
---
If you're searching for the best Sunday golf bag with more pockets, CHAMPKEY Professional Golf Sunday Bag is perfect for you. It contains 6 pockets where you can put everything required on the golf course. These pockets offer space for divot tools, tees, balls, gloves, and cup.
It is made up of 600D nylon fabric which is lighter than other materials. Moreover, this construction is sturdy, durable, and ideal for people loving lightweight golf bags. More interestingly, it is water-resistant, so you can enjoy your favorite sport even on rainy days.
Not only it comes with more pockets but also fits in more clubs than other Sunday golf bags available at the same price. This one of the best Sunday golf bags can accommodate 3-9 clubs. So, it's the best option for situations when you need to take more clubs to the course.
If you get irritated with carrying the golf bags, you should try out a bag with padded shoulder strap for comfy maneuvering. For grabbing the bag instantly, it has a convenient handle that can be seen at the side of the bag.
---
JEF WORLD OF GOLF JR1256 Pitch & Putt Sunday Bag is a remarkable product with numerous features. It is perfect for par 3 courses, driving range, and walking. This tremendous bag can accommodate 8 golf clubs in a 4.25 inches top which is oval in shape. The stand keeps the bag firm in its place while helps you instantly grab the desired club.
This one of the best Sunday golf bags weighs 2 pounds, it is designed lightweight for effortless maneuvering.
The adjustable carry sling is too comfortable and brings ultra-convenience to your golfing. Now you can take up to 10 balls along with you to the course as the zippered pocket is quite wide. You can put more golf accessories in it, so you will be having everything required at the golf course.
Having a compact bag doesn't mean you should remain dehydrated. The corded bottle holder firmly holds your water bottle to make you enjoy cold water instantly.
With the aim to provide ample space, the manufacturers have added hook and loop tape for your golf glove.
---
Ranger Carry Sunday Range Travel Bag is an amazing product having a unique design. It has a padded top that protects the clubs from any damage. The overall construction of the bag is designed for club protection. The molded base and rigid body of the bag protect the golf clubs, so you can take them anywhere safely.
This multi-functional bag is constructed with 1680D fabric that is highly durable. It can withstand harsh conditions and will survive for years. If you prefer lightweight products, this one will attract you the most. Weighs just 3.5 lbs that's why it is ideal for weekend sessions, simple strolls, and practice games.
The best Sunday golf bag 2021is having 51 inches long tube for fitting in 460cc drivers and 9 clubs. For convenient picking, it consists of a rubber handle and padded shoulder strap.
It is not like other Sunday golf bags that feature a single small pocket. As it is equipped with 3 zippered pockets, you are free to put whatever you feel necessary. Moreover, the lockable zippers perfectly save your golf accessories. A towel ring is a useful feature added to this sophisticated bag.
---
If you want to buy the best Sunday golf bag with a rain hood, then you can give it a try. Titleist Adaptive Club Stand Bag includes a matching rain hood for keeping your clubs protected in wet weather.
As it is designed for Par 3 courses, that's why it carries 3-4 clubs only. This remarkable bag is highly recommended for senior golfers who can't handle weighty beasts. But what makes it highly desirable is the exceptional quality that every golfer desires for.
Featuring deep side pockets for more storage and stand legs for stability and high profile. The tall golfers will easily access the clubs without bending down over the bag. Another advantage of this sturdy stand is that you don't have to lay the bag on muddy ground.
The phenomenal feature of this best Sunday golf bag is its lightweight design. Offering all the superb performance of a fantastic and modern golf bag but in a very low weight. Walking around the course with this phenomenal bag will always be a great experience.
---
If you are much concerned about the sturdiness of your golf bag, then this bag is a perfect fit for you. TOURBON Vintage Club Carry Bags is one of the best Sunday golf bags made up of premium quality canvas and leather. So, you can confidently use it for sessions after sessions with no fear of wear and tear.
It is designed amazingly with the aim to provide the users a fully secure and reliable product. The heavily padded top is a superb addition to the bag for keeping the club heads protected when you travel. The padded cover easily folds back and can be attached to the bag's side when it's not more in use.
Though it is a Sunday bag but it's deceivingly capacious with more space in the main compartment and pockets. The pockets can easily fit in balls, divot tools, tees, and other golf gear without any hassle. Giving you the freedom of putting anything in the bag you may need at any point in time on the course.
It weighs only 1.27kg which is too easy to carry. Due to its lightweight, even new golfers can conveniently handle this fantabulous golf bag for their practice or weekend sessions. Moreover, for effortless carrying, it comes with a padded shoulder strap which ensures ultra-comfort. Not only this but the easy-to-grab handle helps you instantly hold the bag and go.
---
Best Sunday Golf Bags Buying Guide
Before buying the best Sunday golf bag, must consider a few essential points to purchase the right one. Here are some of the factors which will make your decision process simpler. Let's explore them.
1- Weight
When it comes to Sunday golf bags, every golfer desires to have a lightweight bag that doesn't over-weigh their back and shoulders. The true Sunday bags weigh around 3 pounds mostly but offer enough space for balls, divot tools, and tees. It's important to note that Sunday bags are aimed at making golf more fun without clutter.
2- Carrying Options
Most of the Sunday golf bags come with a convenient carrying handle and a padded shoulder strap. The double strap is very rare in compact bags. But that would be a plus point if you find a bag with a double padded strap. It will help you walk around the course with less fatigue when carrying the bag.
3- Stand
The old Sunday golf bags weren't having a stand but the modern ones do come with this essential feature. The Sunday golf bags with a stand are easy to use. And, it saves you from setting all the clubs down on the ground for each stroke. No doubt, it adds a bit more weight to the bag but that compromise can bring a big change in your golfing.
4- Durability
Though other features are also much important to focus on but never forget to check the durability of your preferred bag. Obviously, you don't want to purchase a bag that tears off after a few uses. If you choose a low-price bag, it may not be that durable, so make sure you go for the top-brand budgeted bags. Moreover, the dark color of the bag may fade away due to the summer sun, thus pay some heed to this issue also.
Conclusion
Orlimar Pitch and Putt Lightweight Bag is our top pick because it features all that a golfer needs. The retractable stand gives you an instant excess to the required club. Its two compartment top, one accessory pocket, and durable shoulder strap will definitely attract you.
Titleist Adaptive Club Case is undoubtedly a high-end product but you'll never regret your choice. You get what you pay for. The deep side pockets make it different from other golf bags due to their commodious space. It is a true Sunday golf bag with premium quality features.
Proactive 5″ Sunday Bag is the best budget product that will never let you down. It is lightweight and a great option for traveling. Every level and age golfer can use it confidently. It can easily be stored when not in use.