Last Updated on October 22, 2022 by Ale Monti
When a golfer wants to get accurate distances, there is no other choice than the best laser golf rangefinder. The rangefinder comes into play because the naked eye is not capable of estimating the exact distances. However, the golf laser rangefinders are not only popular in golf but also in many other outdoor activities.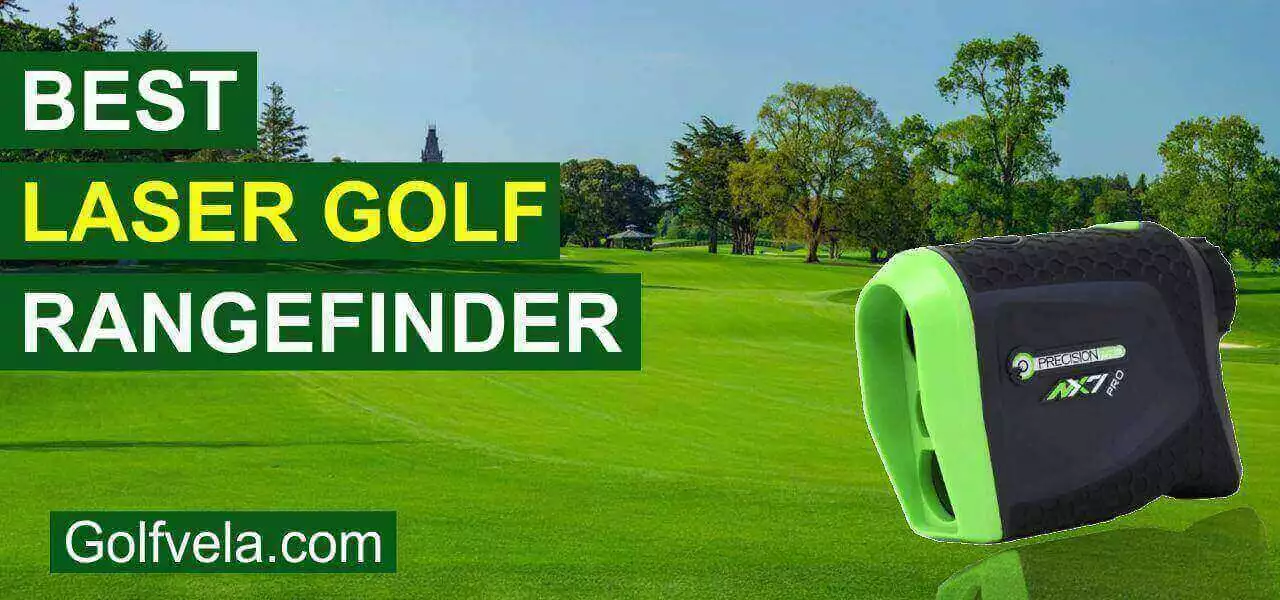 Every year numerous brands are introducing their best laser golf rangefinders in the market. Different brands bring different rangefinders in various price ranges ( Like Best golf rangefinder under $300, Under $200, Under $150, Under $100). The modern features are also added to the new products. That may be confusing for you; how to choose a better and durable product? Don't worry; our researchers are enthusiastic and devoted to finding the best golf laser rangefinders, so you'll not be disappointed.
Top 7 Best Golf Laser Rangefinders Reviews
Finding the best laser golf rangefinder is not an easy task. For making the new golfers buy a perfect device for them, we are bringing amazing rangefinders. We have chosen the best golf laser rangefinders that are already ruling the hearts of many users. Moreover, all the products are of the top brands that's why you can buy them with confidence.
Our Top Picks
People who are having a low budget can also take their game experience to the next level. We have enlisted the best budget laser rangefinders for them also that are having fantastic features. We selected the rangefinders with slope mode, 6x magnification, magnetic cart mount, and other newer features. Go through the whole article to see which one catches your eye.
Comparison Table
---
Do you want to buy a rangefinder that comes with useful accessories? Precision Pro NX7 Golf Rangefinder is an incredible device that comes with many enormous accessories. For your convenience, it includes a sturdy hard carrying case, a lanyard, a cleaning cloth, a battery, and an instruction manual. So, you will get everything you need at any point in time while using the best laser golf rangefinder.
No matter how long you want to shoot, this superb golf rangefinder has a capacity of 400 yards. It also provides the facility of selecting between the meters and yards as per your need. To make you play with precision, it shows accurate findings up to one yard. All this becomes possible because it is a non-slope device that shows exact distances.
If you have to play while it's raining, don't worry; you can easily use this rangefinder as it is water-resistant, so keep on playing without any tension. It is featuring pulse vibration technology for making you hit with confidence. Right at catching the target, it vibrates a bit to make you aware that the target is in front of you.
Use this device with full confidence. It offers a two years warranty and also ensures that you are using a perfect rangefinder. If you find any issue, replace it without any hesitation. Moreover, a 90-day money-back guarantee is also available.
The target acquisition technology locks the flag accurately that lets you hit like a pro. Just focus on the target, not what is at the back; that's why you get the exact findings.
A piece of exciting news will make you jump with joy. The Precision Care Package offers a lifetime free battery. Just you have to register your rangefinder, and whenever you want to replace the battery, place the order. After a few days, you'll get the new battery for free.
---
TecTecTec Laser Golf Rangefinder is the perfect device with remarkable features. It is having 6x magnification for delivering clear and vibrant images. By instantly catching the flagship, it stands apart from other competitors. Due to the fabulous optics, TecTecTec Laser Golf Rangefinder measures accurate distances. Moreover, if your eyesight is weak, don't worry; you can easily rotate the lens to focus on the target.
It provides ± 1 yards accuracy with up to 540 yards for making the golf rangefinder help you get the proper distances.
By featuring the PinSlope Technology, this outstanding rangefinder provides exact findings by calculating the angles of elevation. That feature allows you to hit with more confidence whether the target is downhill or uphill. The best golf laser rangefinder reviews say that mastering your game is not that difficult when using this helpful device.
The target lock technology ensures every beginner can play with precision. That's why it locks the target as it comes in its view. Are you irritated with your shaky hands and are worried that you can't hit the target perfectly? Don't be upset; target lock technology will lock the target even if your hands are shaking. Furthermore, you can also check our article best golf range finder for shaky hands.
If you are irritated by carrying heavier equipment and want to purchase a lightweight rangefinder, this one is a better option. With just 6.52 oz weight, this ergonomic device is easy to carry. Moreover, due to its water-resistant nature, it proves to be a perfect companion in rains.
When it comes to accessories, TecTecTec Laser Golf Rangefinder includes many handy pieces of equipment. The CR-2 lithium battery is available in the package to make you use the rangefinder right after unboxing. The wrist strap helps you grip it with convenience.
---
TecTecTec ULT-X Golf Rangefinder is a sturdy, high-quality, and remarkable rangefinder. The laser technology is most essential whenever you're looking for a perfect rangefinder. The laser technology and superb optics let you play like a professional by providing exact findings to help every golfer excel fastly in their favorite game.
The continuous scan mode is finding and constantly scanning the data, which results in immediate target hunting. Moreover, it comes with the yards and meters options; you can choose any one of them as you desire.
To play like a professional, you must achieve the target in fewer strokes. But for that, accurate distance finding is of utmost importance. The interesting fact is that it takes fewer seconds to search the flag. With only a ± 0.3 yards error margin, it catches the flag at a distance of 300 yards. It helps you play with precision by showing accurate findings.
This best laser golf rangefinder is greatly admired for presenting clearer and brighter images. All this becomes possible because of 6x magnification and a multi-coated lens. The sharp and crisp images take the viewing experience to another level. Measuring larger distances is not an issue for this useful rangefinder.
If you are farsighted or nearsighted and want to replace the previous rangefinder because it strains your eyes, be glad. It's time to try this best laser golf rangefinder that comes with the rotating eyepiece. Adjust the eyepiece according to your requirement to accurately focus on the target.
Your target is down the hill or at the upper side; hitting up to the mark is not great trouble for you if using this rangefinder. The slope mode provides accurate distances to make you strike correctly.
---
Bushnell has introduced a great device for all quality lovers. By bringing Pro XE to the market, they are helping the new golfers to play like professionals. It has all the features you might be looking for in your new laser golf rangefinder.
Do you have this issue that you place the things but then forget where you placed them? You'll never face this issue when using the Bushnell Pro XE Golf Laser Rangefinder. It comes with a built-in bite magnetic cart mount that makes you keep it right in front of your eyes. Mount it on the cart bar to easily use it whenever you need it.
To make the golfers strike with precision, it features visual Jolt technology. Besides, the red ring enlights to make you aware that the flag is locked. You can hit with confidence which ultimately has positive effects on your gameplay.
If we look at its outer material, it is the sturdy rubber-armored metal housing that is water-proof. Golfers will feel relaxed to use it in any weather conditions without any issue. The robust construction will last for years, so you don't have to buy the rangefinder again and again.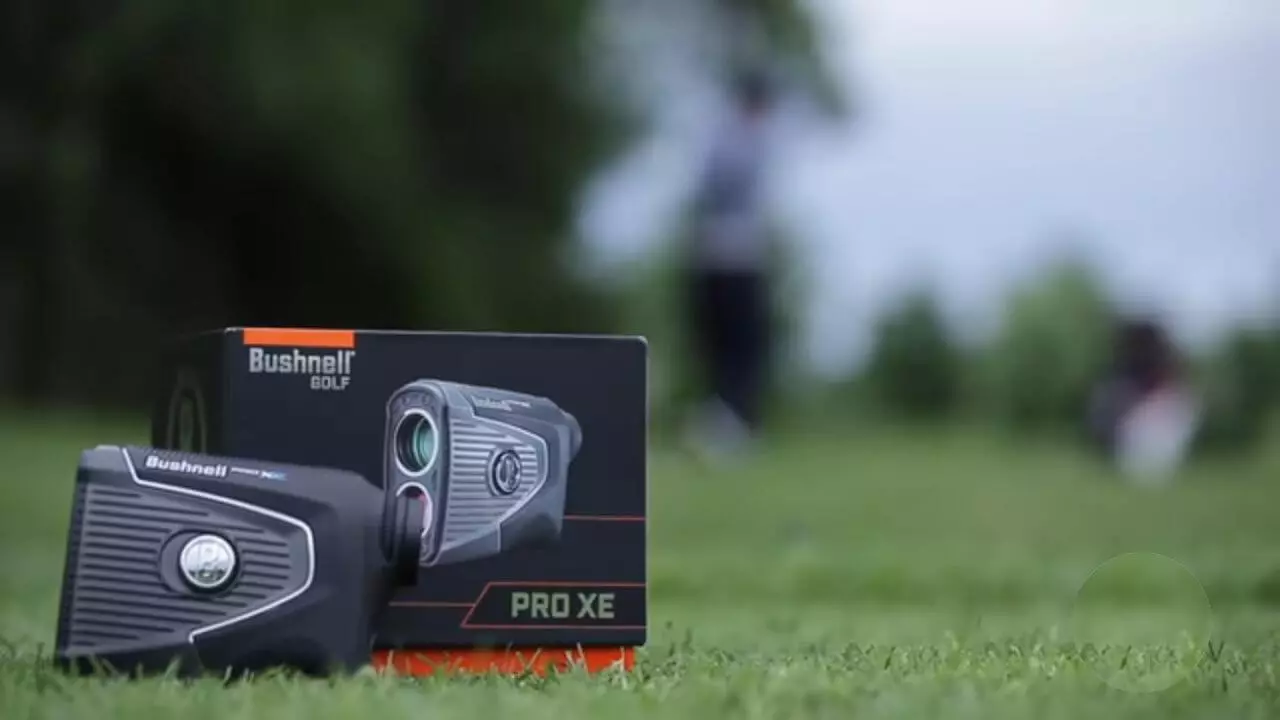 Bushnell Pro XE rangefinder also has Slope with Elements that provide you compensated distance findings. You can toggle this feature easily according to your need. By being a USGA-conforming device, it makes tournament play more convenient for you to play.
By having quality optics, it presents every image clearer and brighter. No matter how far the target is, you can see it as it's just close to you.
You'll be glad to know that it offers 7x magnification and finds targets from 5 to up to 1,300 yards range.
---
Do you want to have a golf rangefinder that you can also use for hunting and other outdoor activities? Bozily Golf Rangefinder is exactly the device you are searching for because it provides perfect findings up to 1200 yards, so it is relatively better for multiple purposes. ( You can also check the best hybrid golf range finder)
Additionally, if you are eager to get the target sooner, this rangefinder will always make you happy. It shows the distance findings fastly and accurately, which makes striking more convenient for you. This best cheap laser rangefinder golf presents every image vibrant and clearer. The people having weak eyesight can also see the target very easily.
The ergonomic design and portable size make it easy to carry and the most convenient to use. One another feature that you will appreciate the most is that it is water-resistant. You can use it without any tension when there is fog outside, or it's raining. With such construction, Bozily Golf Rangefinder becomes a perfect choice for those wanting to have a durable device.
Whether you want to get reading in meters or yards, both options are available here. Choosing any of them is more than easy. Only you have to long-press the mode button, and it can shift swiftly.
The high-definition camera shows every visual more clear to you. Enjoy the fantastic visual experience with the 6x magnification and 7-degree field angle. The USB charging facility is also available. The micro USB cable is also included that is easy to charge through any charging port. There is no need to change the battery, just recharge it and keep on playing your favorite game with ease.
---
Golf Buddy Laser 1S Rangefinder is an incredible device that is well-known among others for its accuracy. With exact findings, it becomes easy for new golfers to shoot precisely.
The perfect findings are provided in a very short time. It means you don't have to wait for so long to find the flag. As you click the measurement button, the response comes in split seconds. The wide LCD looks stunning and shows distance measures perfectly.
Furthermore, it can provide distance measurements from 5-880 yards. The findings are accurate up to 1 yard. The interesting fact about this fantabulous device is that it comes with three different modes. These modes are Scan, Standard, and Pin finder with vibration. The scan mode is so beneficial because you continuously get the exact distances which makes you play outstandingly.
The pin finder vibrates the moment it catches the target, so you get ready to become in action as a pin finder makes you alert. The clear visibility helps the golfers to experience accurate findings in a better way.
The slope feature is also included in the Golf Buddy Laser 1S Rangefinder that you can on or off according to your need. For that purpose, the mode button is there that makes you easily toggle it to get instant results. No matter if the target is uphill or downhill, you'll get the accurate distance in every case.
Suppose you are busy focusing on any other matter and keep the rangefinder away for a while. In that case, it will shut off automatically after 10 seconds to save battery life, which is a fantastic feature.
---
BUSHNELL GOLF Tour V5 Patriot Pack brings the difference in the world of rangefinders by its incredible features. You can trust this great device that shows all the distances with precision. That's the reason it is always a better option for those looking for quality products.
Playing golf is not an easy task for beginners if the distance is not measured accurately. Keeping this point in mind, the manufacturers have always focused on making a device that always provides accurate measurement. If you are a beginner then check out the best golf rangefinder for beginners.
This best laser golf rangefinder helps the new golfers be better players within a short time. For this matter, it presents essential information related to hole layouts, distances, and 3D flyovers through the latest features it has. The manufacturers made it a desirable product for both beginners and professionals by putting more updates and additives in the rangefinder.
One of the handy features is the PinSeeker with Visual Jolt that alerts you right at the moment it catches the target. For this purpose, the red ring flashes, and the pulses vibrate to indicate that the target is hunted.
The other feature that you'll also appreciate is the BITE Magnetic Mount. You can mount it with great ease on the cart bar. Along with providing exact distances, BUSHNELL GOLF Tour V5 also takes care of your convenience. Moreover, the images appear bright and vibrant, which takes the visual experience to another level.
The 1 CR123A batteries are included in the package to help the golfers start using it without any tension of buying the batteries separately.
---
Best Laser Golf Rangefinder Buying Guide
When you decide to buy a golf rangefinder with laser technology, don't forget to consider the following points.
GPS Device or Laser Rangefinder
If you are not concerned about the cost, it is better to have both types of rangefinders. When it comes to functioning, GPS devices help you know the distance between you and the target using satellite imagery. It is quite beneficial in such a situation when your target is not clearly visible. Even it will tell you the exact distance at that time also.
On the other hand, a laser rangefinder is more accurate and precise about showing the distances. Due to high magnification, the laser rangefinder presents views more clearly.
If choosing the best between them, the laser rangefinders win over GPS devices for their efficient performance.
Magnification
The magnification is essential to look at when you're buying a new laser rangefinder. Typically, it is ok to go for 4x, but if you want clearer images, then 6x or 7x magnification is of utmost importance. Few rangefinders come with 8x magnification that is a plus point to get focused images.
Slope Mode
The slope feature is an essential addition to the recent laser rangefinders. The distance findings are provided by adjusting the yardage when the target is uphill or downhill. This feature is advantageous because it compensates the elevation, and hitting becomes easier. So, you must look for this feature in your new laser rangefinder if you are a beginner.
FAQs
Is a golf rangefinder allowed to use on the golf course?
Yes, in some scenarios, the golf rangefinders are allowed to use. But when you're playing professional tournaments or US Open qualifications, it is also essential to note that some tournaments don't allow the usage of rangefinders. So, must check the rules before planning to take it inside the golf course.
Is it essential to choose the expensive golf rangefinder for better results?
It is unnecessary to choose an expensive rangefinder if you want to play like a pro. More price means that the device will contain additional features that you may even don't need. If you are a beginner, using an affordable rangefinder will be quite enough.
Are laser golf rangefinders beneficial for beginners?
The benefit of a golf laser rangefinder is that it measures the distance in seconds. Ultimately, it improves the performance and speed of new golfers. Also, these rangefinders save time by providing instant findings.
Which brand is most reliable and top-rated for golf laser rangefinder?
Though many brands are offering quality laser rangefinders, the Bushnell is matchless. The rangefinders they produce have all the outstanding features which make them stand apart from others.
Conclusion
We have provided you all the essential information regarding the best laser golf rangefinder here. Now it's up to you which one you want to be your companion on the golf course. But if looking up to us to help you to decide then let us explain.
Precision Pro Golf, NX7 Laser Rangefinder, is not only the high rated product on our list, but it's our top pick also. The reason for keeping it at the top of the list is its affordable price and remarkable features that are matchless.
If you have a low budget but desire to have a quality product, you can go for Bozily Laser Range Finder. It is the best budget product on our list, offering 6x magnification and 1200 yards range.
If you don't bother about money for buying any product, then here is a better option for you. Bushnell Pro XE Golf Laser Rangefinder is a high-end product that will never disappoint you.
Take your time to choose the best laser golf rangefinder which will let you play like a pro.