Last Updated on October 25, 2022 by Ale Monti
Some players do not consider golf grip fitting to be a considerably essential aspect of the game. However, opposite to their considerations, golf grip fitting does play a crucial role in golf. When it comes to fitting, a tape is as important as the grip itself to the golf club. If a grip tape is not good enough or has poor quality, it will wear out even before the grip itself. The best golf grip tape keeps the grip tightly bound to the club and provides a firm grip in your hands.
Furthermore, there are also chances of the grip slipping out due to poor-quality tape. Therefore, you should not disregard the fact that you also need the best golf grip tapes. Hence, we will introduce you to some of the best tapes available in the market. Also, we will help you to decide which exact aspects you should look for in an adhesive tape.
6 Best Golf Regripping Tapes
There are different ways to rank a product. For instance, it is possible to rank them according to their quality or their features. Hence, ranking might be a subjective concept for a lot of people. However, it still offers a perspective to any search. Therefore, we have tried to make things easier for you by arranging some of the best golf grip tapes here.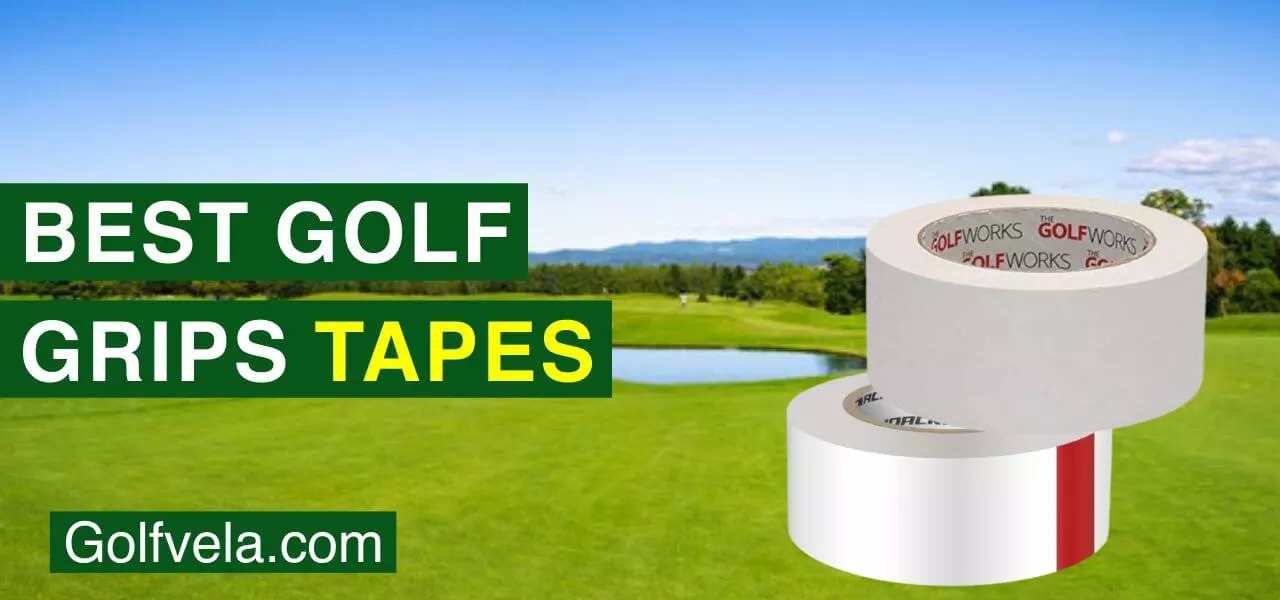 Here, we tried our best to list these grip adhesive tapes according to their key features. Now, it is time for you to think about what exact features you are looking for in it. Yes, we will also help you in this regard. You can go through the detailed review of each item one by one and decide the best one for you. Also, you can just look at this comparison table and make your decision.
Comparison Table
---
GolfWorks' double-sided grip is not exactly 2 inches in size, instead 1.9 inches. Hence, when you apply this grip, there will not be any overlap of the wide ends. It further has the advantage that the grip will have an even fitting on the handle.
Furthermore, this adhesive tape is suitable to use with multiple types of grips, irrespective of their material. GolfWorks double-sided tape is suitable for rubber, synthetic, hybrid, and even leather grips. Therefore, you will not have to worry about which grip you are buying. This tape is going to be a universal choice in your inventory.
Last but not least, this tape has a pretty decent thickness around 2 paper sheets. It is neither too thick nor too thin. To most golfers, it just feels right with even distribution. Overall, it is one of the best tapes, but never forget to order the solvent separately.
GolfWorks double-sided tape is useful for almost every kind of golf club grip. It is a solvent-activated grip; therefore, it dries out pretty quickly after applying. Also, its decent thickness and versatility make it worth buying.
---
Furthermore, this tape is not too thick, instead quite thinner, perhaps a single paper size. In case you are looking for thicker tape coverage, you need to apply multiple layers. Then, certainly, you can reach your desired thickness.
Most importantly, this tape goes with every kind of grip. You can confidently use it with rubber, polymer, hybrid, and even leather grips. It means you do not have to worry if you decide to change the type of grips you use. Viking professional grip tapes also offer consistent quality.
You can purchase these tapes along with Viking's professional regripping kit. Therefore, it makes your job quite efficient and more simple. Also, replacing the tape is quite simple and does not need too much training. As these tapes are pre-cut, you do not even have to worry about cutting them.
Viking golf grip tapes come as pre-cut tapes, making your job a lot simpler. Also, budget-friendly and quite easier to install even if you are a beginner. Hence, making them a decent purchase.
---
In addition to this, multifunctional putter tape has a great build quality. The manufacturer also argues that this tape can easily last for 550 hours. Furthermore, it has a strong adhesiveness on both sides. Resultantly, it offers a strong binding to both the grip and the shaft of the club.
Also, it has a fairly strong environmental resistance. Hence, it is safe to use and more durable than several other grip tapes presently available in the market. On top of that, this tape is easy to apply and peel off while regripping. You can also buy this tape in the form of pre-cut or cut several pieces in advance.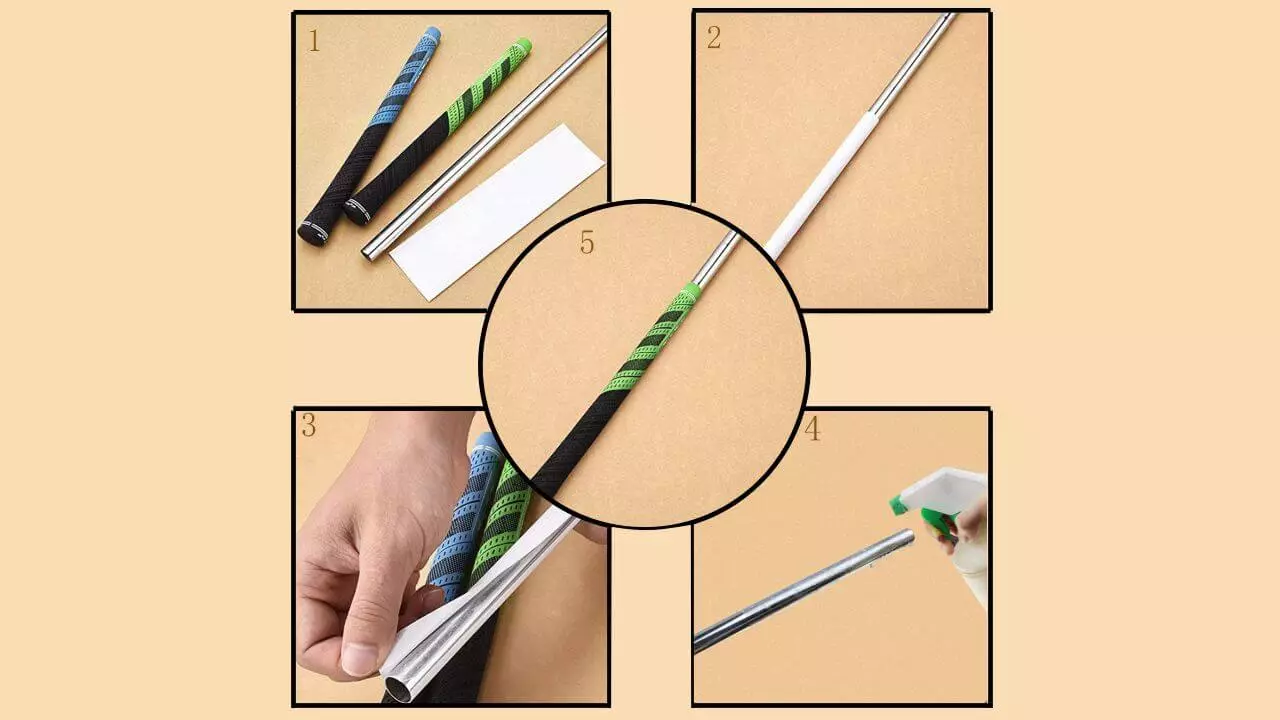 Furthermore, this sticky tape comes with seven days warranty where you can return it without any reason. To obtain the best results with this tape, you should use a mineral spirit as a solvent. However, this tape will not help you build up the thickness but just regrip the club.
The multifunctional putter tape is quite inexpensive, given its enormous length. Therefore, it is suitable for regripping more than two hundred golf clubs. Also, its durability makes it a product you are going to love.
---
Intertape 591 is a solvent-activated premium quality sticky tape. It has double side stickiness, and it sticks well to almost every surface. Hence, it will save you the hassle of being cautious about which side goes where. Indeed, it will offer great adhesion to both grip and club shaft.
Intertape 591 is a crepe paper based premium grip. Therefore, you can easily apply it using either your hands or a machine. You will have to use a mineral spirit to attain the best possible results. However, the exact amount of solvent required depends on the brand of that solvent.
In addition to this, the tape has a decent thickness of 0.0075 inches. Therefore, you will only have to apply a single layer to obtain the optimum results. Do not disregard its thickness before you are making your mind to purchase this grip.
Intertape 591 is a premium quality regripping tape for golf clubs. It is comparatively thicker than its competitors even though it is a bit expensive but worth your money.
---
Furthermore, Shurtape CG200 comes in a width of 2 inches and a length of 36 yards. Indeed, roughly 33 meters is going to last for quite a long time. Hence, this great tape becomes quite friendly to your pocket.
Health safety is one of the key features of CG200 tape. As this tape is water re-activated, it is odorless, non-toxic, and free from any fumes. You can also buy a water-based activation solution with it. However, there is a disadvantage that you cannot use water with it, but water-based solvents.
Once you get the hang of cutting a tape to the perfect size, you will certainly love this tape. However, there will be the only drawback: it will take some extra time to completely dry. Also, you can use inorganic solvents with this tape.
Shurtape CG200 works with both water-based and inorganic solvents. In addition, it has specialized coatings for shaft and grip sides, making it very easy to use. Indeed, you are going to love this tape due to its quality.
---
A normal golf club handle's shaft is 10 inches long. This grip adhesive tape is 36 yards long, and you can use it for more than 100 regripping. Hence, making this product quite budget-friendly. Furthermore, you can apply it using any inorganic solvent and can save you some money.
The type of solvent you use with the sticky tape really matters a lot for efficient results. This grip tape works best with mineral spirits. You can purchase such solvents easily from a local hardware shop or an online store. Moreover, regripping will not take a lot of time because solvent dries out quite quickly.
Dynacraft Professional Grip Tape also has a decent thickness. You can easily regrip a club using a single layer of tape. Sometimes, you will also observe an overlap where the shaft gets thinner. You can simply trim it off there using a blade or a sharp cutter.
Dynacraft Profesional Double-Sided Grip Tape works best with inorganic spirits. The significant amount of length makes it a relatively cheaper product and worth buying.
---
7. Club Repair – Double-Sided tape for Regripping golf clubs
Furthermore, this tape is really easy to use even for a beginner for golf club regripping. With wider tapes, you have to pay more attention to the decreasing diameter along the length. However, with Club Repair Double Sided Tape, it will no longer be a problem.
As this tape is solvent-activated, you can use a paint thinner or any other inorganic solvent. In addition, this tape will make your life a lot easier because it dries out pretty quickly after application. Hence, you will be ready to use your golf club within a couple of hours.
In addition to this, Club Repair Double Sided Tape is quite thin. So if you are looking forward to building up the diameter of the grip, you will need a lot of tapes. Another benefit of using this tape is that it is very simple to peel off when you want to regrip.
Club Repair's double-sided tape's width might be beneficial for some golfers while a con to others. However, it is really easy to apply as it goes circling across the length. Also, its budget-friendly price makes it one of the best tapes.
---
Best Golf Grip Tape Buying Guide
Several factors can drive your quest for the best golf grip tape for regripping for clubs. For instance, what kind of material a sticky tape has? Or what are the dimensions you need? Or what should be the thickness of the adhesive tape? Or what should be the working mechanism of a tape? Or which tape is safer?
If you find yourself surrounded by these questions, then it is time to stop worrying now. Instead, with our experience with the above golf grip tapes, we will help you look at different golf tape features and aspects. Indeed, it will help you and make your quest easier.
Working mechanism
Generally, there are different types of golf grip tapes available in the market. The mechanism of tape installation divides tapes into two broad categories. For instance, solvent-based and water re-activated grips.
Each of these tapes has a different working principle, installation guidelines, and drying time. Solvent-based grip tapes have a lubricating layer in the form of some solvent. The solvent evaporates quite quickly once you have installed the grip on your golf club. Consequently, offering you quite a short drying time.
However, this tape might not be as safe as the water-based grip when it comes to safety protocols. On the other hand, water-based tapes need some amount of water to re-activate before use.
Also, you can use a mixture of dishwashing soap and water or glass cleaner to re-activate it. Moreover, the amount of water depends on the tape, and manufacturers mention it as well. Also, notice that these tapes can take up to 24 hours to completely dry before you can use the club.
Safety
Safety is a big concern to a lot of golfers. Unfortunately, some tapes can have a lot of fumes or pungent odor. It is especially true for solvent-based adhesive tapes. If you are allergic to pungent odors or fumes, it might be crucial to help you choose the right tape.
Furthermore, you should always be cautious about fire safety. When it comes to solvent-based tapes, they are more prone to catch fire. Also, they might burn with strong fumes, leading to some medical complications.
Moreover, water-based tapes still prone to catching fire but do not burn with dangerous fumes. Also, these tapes do not have pungent odors. However, the only drawback for these tapes is the time they take to dry up after applying.
Thickness
You can easily find both thicker and thinner golf grip tapes. However, which one is going to be your best golf grip tape depends on your choice. Thicker tapes add further to the cushioning effect of the grip, unlike thinner grips. However, offer a higher feel when you play.
Do not forget about the thickness of the grip if you are looking for thicker tape. Both tape and grip will add to the thickness. Therefore, you need to maintain a balance between the two when you are making your choice.
Material
In most cases, the material of a product defines how long the product will last. Hence, material quality is a quite crucial factor to consider while purchasing the tape. Also, it will determine how strongly it can hold a grip in its place without causing any slipperiness.
Many golfers prefer double-sided tape, as it sticks better to both club and grip at the same time. But, again, the choice is yours which one you prefer. But, double-sided tapes usually have an advantage over single-sided tapes.
Pre-cut tape vs. tape roll
You can find sticky tape in two different settings. Golf grip tapes are available as a pre-cut and a tape roll setting. Pre-cut tape is comparatively easier to install, as a pre-cut has an actual size of what you need. However, pre-cut tapes are usually expensive.
On the other hand, tape rolls are cheaper and budget-friendly. However, they might take a little extra of your time because you'll have to cut them. Also, it might be a bit tricky for a beginner to cut them in a perfect size.
Size and Installation
You can find your best golf grip tape in a variety of sizes, depending on its width. Mostly, tapes are available in 2, 1.75, and ¾ inches width sizes. Each of these sizes has its pros and cons, which can help you make a final choice.
Also, each of these grip tapes differs in terms of the application procedure. Some of them go across the length, and others have to wound across the diameter. You can decide on the way we can install a grip.
Normally, 2 inches wide grip tapes go across the length of the club handle. Therefore, they are easier and faster to install, as they save time and effort. However, there is usually an overlap between the two wider ends of the tape after installation.
1.75 inches tape has a width that does not result in overlapping wider ends. Instead, it can even leave a small space between two wider ends after installation. Also, these tapes save an overall cost, making them cheaper as compared to 2 inches tapes.
Contrarily, ¾ inches wide tape does not go directly across the length like the previous two. Instead, it goes rolling across the diameter of the golf club handle until it reaches the length. Hence, it is a bit tricky to install and needs some experience not to mess it up.
Budget
Budget is always an essential factor that you need to be careful about. For example, every time you change a grip, you also have to change its adhesive tape. It can be a rather expensive business, in the long run, therefore never forget to consider it.
Supplementary material
Different manufactures include different supplementary materials in their kits. For example, you can receive a cutter, some extra solvent, and some other stuff. It could also be a useful factor to look at while making a decision. However, make sure you have a balanced kit.
Conclusion
Now let's take this discussion towards the bottom line. Your grip quality and the club won't do their best until your grip is tightly bound to the club. And here comes the role of the golf grip sticking tapes. Some come in the form of rolls, while others come pre-cut tapes. It depends upon your ease and preference of which one you'll select.
The best golf grip tape is the one that goes best with your grip and the club. From the above-reviewed ones as per our experience with them, you can choose your best one, and we can recommend you some.
The first tape which we consider as our top pick is the GolfWorks Double Sided Grip Tape. Its adhesiveness and affordability are the top factors that make it our top pick among all others.
Next up is the pretty affordable option for people who look for this factor as the top one. VIKING Professional Golf Grip Tape is the best budget pick. Besides its affordability, it does its job pretty well. So, you won't regret your decision to buy it as an addition to your golf kit.
Intertape 591 Premium grip Tape is a high-end option if you are looking for one. The premium quality stickiness and ease to peel off are its key features.
So, choose the one you liked the most or according to the need of your grip and enjoy your golf.