Last Updated on October 29, 2022 by Ale Monti
To play golf with full concentration, it is essential to manage all other concerning matters beforehand. That's why it becomes crucial to manage and organize all the required equipment in an efficiently packed golf bag. Only then can you focus on the real matter: playing golf. It's better to use the best golf trolley bag; it will save your energies to be utilized later on gaming.
Moreover, the best trolley golf bags offer additional benefits that make them highly desirable. One bigger advantage is the instant access to everything, as pockets in most bags are designed user-friendly. You can place everything arranged, and compact, and the bags sit on the trolley correctly. So, you don't have to arrange the golf gear over and over.
Don't waste your precious time searching for reliable golf trolley bags. We have done proper research and gathered renowned brand products for you to make a quick pick.
Our Recommendation
8 Best Golf Trolley Bag Reviews
Searching for the best golf trolley bags is no doubt tricky for the new golfers. That's why our researchers have presented excellent products after experiencing them to help you compactly organize everything. All these bags are manufactured by well-known brands offering high-quality products. So you can buy any of these bags with full confidence.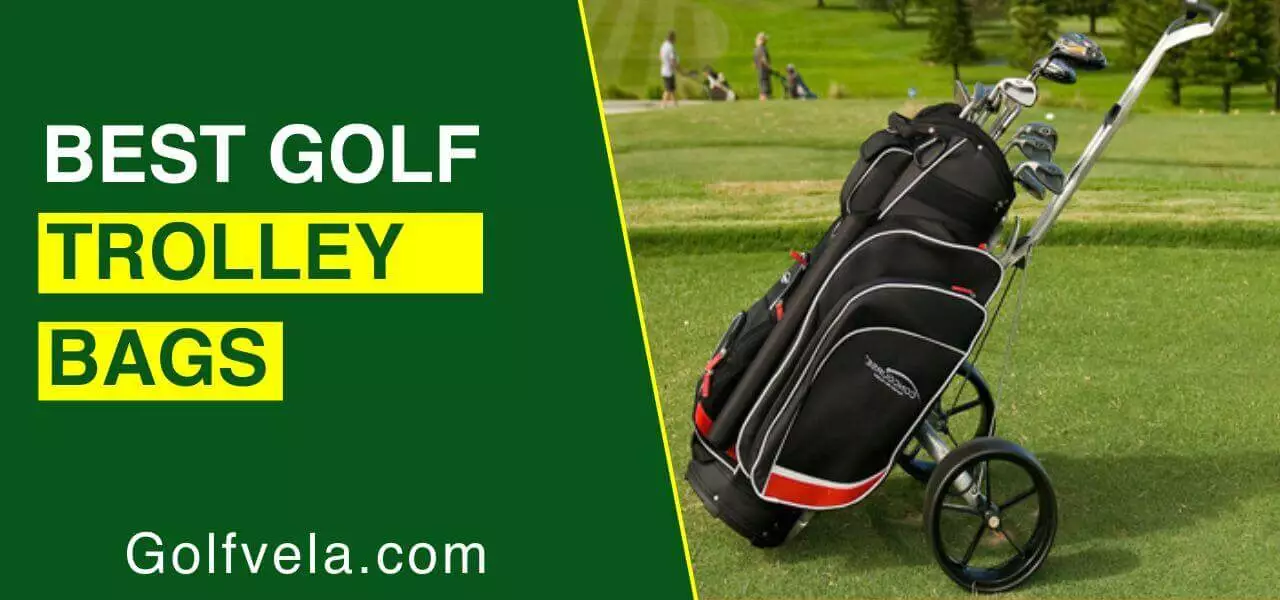 These best trolley golf bags are durable, sturdy, and will last long for years to come. That means you have to pay once and enjoy the convenience for a longer period. Furthermore, different price range bags are available here, so don't worry if your pockets are not that deep. Some low-price yet quality products are also presented on our list. Let's have a look at our selected superb trolley bags to manage all golf equipment easily.
Trolley bags Comparison Table
---
Founders Club Premium Cart Bag is an incredible bag with a club management design. The 14-way top organizer keeps the clubs organized and protected from clanging. The separate spots are available for irons, putters, and wood. It helps the user easily grab the desired equipment, and if any of the clubs is missing, it will be noticed conveniently.
The interesting thing is that it comes with lightweight construction. The bag base is sturdy, large, and reinforced. By providing several handles, the bag manufacturers have made its loading on the cart an effortless task. You can pick it up with the two integrated side handles a rear handle or the bottom handle. The strap channel included in this best golf trolley bag ensures a secure attachment to the cart.
It offers several pockets for providing ample space for keeping all the golf equipment compact. The 9 zipper pockets, insulated cooler pockets, and mesh pockets are enough to place everything required at the course. Furthermore, it features an umbrella holder, tee holder, glove holder, and clips for rangefinder and towels. 
---
Are you searching for the best golf trolley bag that can work well on the cart? Be glad; here is the Sun Mountain C-130 Cart Bag, designed especially for this purpose. Every feature better contributes to this idea. The reverse orientation top, awesome strap system, utility handles, and rangefinder pocket make it the perfect golf bag.
The front-facing pockets give you faster access to required gear when the bag is placed on the cart. By featuring 10 pockets, it gives plenty of space for accommodating the golf gadgets. One of its pockets is the cooler pocket that protects your favorite beverages from getting warm.
This best trolley golf bag has velcro straps preventing it from twisting for attaching the bag with the cart.
This superb bag consists of 14 club dividers for keeping the clubs in separate divisions. You can easily grab the desired one without wasting your time searching it here and there. The included rain hood makes it ideal to use on rainy days.
---
If you want to have an easy-to-carry golf trolley bag, Izzo Ultra-Lite Cart Bag is the one bringing an end to your search. It is super easy to carry and maneuver from hole to hole because it weighs only 3.8 pounds.
Don't worry about the storage capacity as it offers 6 pockets and 14-way full-length dividers. A waterproof pocket for valuables keeps your essential gadgets like golf GPS watches and laser rangefinders safe in wet weather. The umbrella holder is another feature making it a perfect fit for rainy days. Furthermore, you can also read a dedicated article about the best waterproof golf bags. This bag is available in 4 eye-catchy colors. You can choose any of them that attracts you the most. 
Holding this best golf trolley bag is super-easy as it comes with a smart grip handle. So, loading the bag onto a car, truck, or SUV doesn't strain your shoulders and hands because it is a lightweight bag, so a lean person can also carry it with ease.
---
TaylorMade Golf Company has been breaking the tradition and opening new horizons of brilliant performance since 1979. Intending to go beyond the limits when it comes to golf product manufacturing, TaylorMade introduced the TaylorMade Cart 8.0 Bag to fulfill all golfers' requirements.
The innovative design and durable polyester construction make it the apple of the eyes of every passionate golfer. Moreover, the 14-way club top is designed to give a proper distribution for keeping all the golf equipment securely. When every club is placed separately, the club crowding won't happen. You can instantly grab the required club.
It contains 7 pockets offering more space for placing everything a golfer wants to put in it. Additionally, it also contains an XL ball pocket, which is easily removable. The front-facing pockets are oversized; that's why they accommodate everything in a well-organized and compact manner.
Whenever you buy the best golf trolley bag, never miss out on checking whether it contains pockets for valuables or not. Don't worry; this bag consists of a velour-lined pocket for valuables so that you can consider it as your next purchase.
---
If you are looking for the best golf trolley bag with excellent storage, stop searching further because TaylorMade Supreme Cart Bag offers ample storage and better organization of every piece of golf equipment. It consists of 15 individual full-length club dividers that offer a separate place for every club.
The ten front-facing pockets are enough for holding balls, tees, food, valuables, and many other things. Moreover, everything is just easily accessible through these pockets.
This durable bag lasts longer and comprises 90% polyester, 7% plastic, and 3% metal. And the fabric is fade-resistant because the UV-protected materials don't let the colors get dim.
The entire bag is designed more carefully. For making you lift it comfortably, it comes with TPU molded clutch handles. The umbrella pocket is water-resistant, and the split-side pocket ensures storage separation. The cooler pocket is included for keeping your drinks cool.
---
Do you want to get a golf bag with more handles and less weight? Have a look at this best trolley golf bag that comes with 5 different handles. It weighs only 5.5 pounds and contains a single padded carry strap for convenient loading and unloading on a car or cart. If we talk about its handles, you can see the bottom handle strap, two side handles, one front grab handle, and a rear grab handle.
It offers ultimate flexibility about how you use it, whether by carrying it while walking or putting it at the pushcart. The integrated pushcart base works well with pushcarts. The slotted base securely places your bag on the pushcart.
The 15-way full-length divider keeps all your shafts and clubs protected. You can easily keep all your accessories and equipment in the included 9 zipper pockets. To let you walk in the rain carefree, it fully encases the entire bag with a rain cover.
As it offers 2 years warranty so you can use it conveniently. If you find any issue, it would easily be replaced.
---
Titleist Cart 15 is an incredible and best trolley bag with tremendous features. It includes 15 full-length dividers along with a dedicated putter well for making golfers pull out any club instantly. Not only this, but it includes various innovative features.
You can take your valuables along with you on the golf course without thinking where to place them safely. The molded pocket and 2 velour-lined pockets for valuables offer ultra-protection to your mobile phone, keys, and other necessary gadgets.
This best golf trolley bag is perfect in all manners. It comes with superb features but looks great on the cart because of its amazing design and beautiful colors. The nylon construction is durable, and the combination of navy, red, and white color brings more attraction to its overall look.
Grip the bag with its integrated handles that are soft to touch and made up of sturdy materials. Additionally, it includes a velcro landing patch for the glove and also 2 pen caddies.
---
Are you searching for a golf bag offering easier access to pockets? Titleist Cart 14 Lightweight Golf Bag offers more pockets for placing everything without much thinking about storage capacity. Different pockets are available for accommodating lots of gear.
By providing 14 dividers, it lets you organize the clubs to save yourself from later inconvenience. But if you are looking for the best golf trolley bag with full-length dividers, it's not what you're looking for because the dividers are just on the top, not going deep towards the bottom of the bag.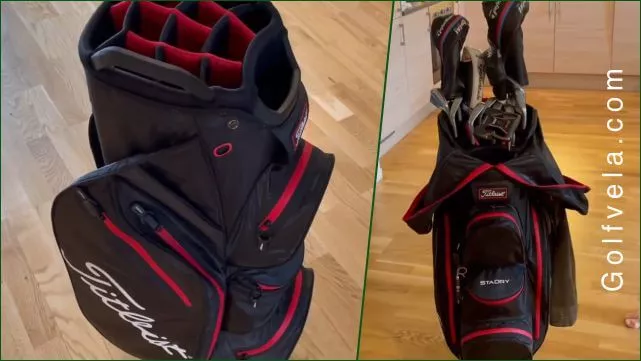 An integrated putter well also adds more value to this bag. It is designed to use with a trolley or cart, which is why it is equipped with a strap loop. It helps you to tighten the bag to the cart without much effort. So, you can comfortably walk along the whole course dragging the cart that is tightly holding your bag.
If you are eager to know about its pockets, you will be pleased to know that it has 11 zippered pockets. These pockets are designed to be easily accessible when placed on the cart.
---
Conclusion
Founders Club Premium is the top pick on our list. It contains a 14-way divider system, and the rubberized slot keeps all the clubs separate and saves them from any damage. It contains 9 zipper pockets, 2 mesh pockets, and various other beneficial features. This ultra-lightweight trolley bag is perfect for all quality lovers.
If you are not reluctant to spend more money to get the best trolley golf bag, you can opt for Sun Mountain C-130. It is the high-end product on our list with enormous features. Offering 14 full-length dividers, 10 pockets, a smart strap system, and much more to justify what you pay for it.
There is no need to break the bank to buy the best golf trolley bag; Izzo Ultra Lite Cart Bag is the compact and lightweight best budget bag. Its polyester construction is durable, and the 14-way padded top offers ultra-convenience.