Last Updated on June 25, 2023 by Ale Monti
Nike is a world-famous brand producing high-quality sports goods. And when it comes to golf bags, you can see how many classy bags Nike manufactures. If you are searching for a quality golf bag, we recommend you buy the best Nike Golf Bag to experience what a quality bag is.
The quality materials used in their production make Nike products more attractive. The Nike Golf bags are made with great care and unique designs. All the essential features are added to the bags, benefiting users to fit in all the golf accessories.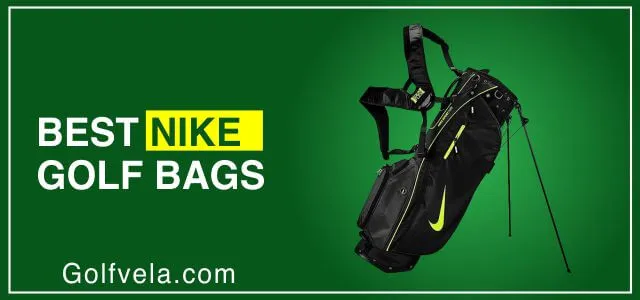 It was very hard to say which are the best Nike golf bags as all the Nike bags are equally remarkable. We are discussing some Nike bags to help you get marvelous options.
Top 4 Best Nike Golf Bag
Finding the best Nike golf bag is daunting because all Nike bags are amazing. But we have done this task for you to save your precious time. Our well-versed researchers know what to look for in the best Nike golf bags. So, on our list, we have displayed the most magnificent golf bags for you.
Whether you have a high or low budget for buying a golf bag, here you'll get both options. We have included high-end and best-budget bags in our list to make everyone purchase outstanding bags by Nike.
These bags have more storage capacity, full-length dividers, and carrying options. More pockets of these bags allow users to place all the essential accessories. Thus, you'll love using these golf bags for their impressive features.
Let's have a look at the best Nike Golf bags:
Nike Air Hybrid Golf Bag is the right fit for putting all your golf accessories because of its spacious capacity. Its tremendous features are the 14-way dividers, retractable stand, and multiple pockets.
Nike Air Hybrid Golf Bag is a complete golf bag with all a golfer needs. If we look at its construction, this best Nike Golf Bag is made of high-quality materials. The 100% polyester lining and lightweight aluminum ensure lasting durability. Polyester is moisture-resistant material that allows you to use it confidently in any weather.
To keep your clubs protected, it comes with 14-way full-length dividers. The clubs remain safe from damage, and you can conveniently grab the required one.
The multiple pockets provide ample space to keep all the golf accessories. An insulated pocket lets you enjoy cool drinks no matter how hot the weather is. The side pockets are also too deep to accommodate more pieces of equipment.
The durable double straps make carrying the bag from hole to hole an easy task for you. If the handle is required at any point, you can easily remove the detachable straps from the bag. Along with that, the car-compatible base adds more meaning to its importance. The handles at the top and bottom help the users to pick the bag effortlessly from place to place.
Obviously, all your golf gears are too pricey, and you must want to save them from rain, so be relaxed. This best Nike Golf Bag comes with a water-resistant rain cover, protecting the bag from external influences. Another amazing feature is the retractable stand which lets it stay firm in its place.
NIKE Departure Golf Backpack is one of the best Nike Golf bags constructed with 100% polyester. The huge main compartment offers ample space to help you put everything you want on the course.
If you're tight on your pockets and searching for low-cost golf bags, here is a perfect option. NIKE Departure Golf Backpack is available at an affordable price. The durable design and comfortable carrying are the remarkable features of this best Nike Golf Bag. You can easily adjust the shoulder straps, which offers an enormous carrying experience. The comfortable handle at the top help you easily grab the bag and move to the other.
The classic design suits every golfer who always wants modern gear. Enjoy the secure storage that it offers through the wide zippered pockets. You can keep more golf gear in the main compartment as it is large enough to accommodate all the essentials. A mesh pocket provides additional storage at the side of the bag.
You can conveniently place it anywhere on the course. The bottom's material is water-resistant, so all your golf gear will remain safe if you place the bag on the damp course.
If we talk about its construction, it is made up of 100% polyester. As the polyester fabric is durable, wear-resistant, and strong, that's the reason this bag will last long for years to come. Moreover, the bag is lightweight and easy to handle, so that you can take it from hole to hole without much effort.
Nike Sport Lite Golf Bag is the best Nike golf bag with incredible features. It has a rain hood, retractable stand legs, and a dual strap system. The huge pockets and 5 dividers give more storage space for putting everything you desire to have in your golf bag.
Nike Sport Lite Golf Bag is one of the best Nike golf bags that is lightweight, well-structured, and sturdy. It is very comfortable to carry and use. You can use it for many years because it is made of high-quality material and its fantabulous design is more user-friendly. The combination of red and black is always very eye-catchy, that's why this bag looks stunning.
The retractable stand legs are quite useful when the course is wet. Moreover, when you no longer put it on the ground, easily pull the legs towards the bag, and you're ready. Its dual strap system is too awesome because it puts the entire weight on both shoulders instead of one, as in the single strap system.
The 5 dividers allow you to put the number of clubs you want to take with you on the course. There would be no problem for you to think about what to take and leave because the commodious pockets offer huge storage capacity.
The sturdy base of the bag is designed efficiently that stands firm on the ground and doesn't damage after a few uses. One of its amazing features is the rain hood which provides great protection for your expensive golf gear during heavy showers. If you have a golfer friend whose birthday is about to come, give him the Nike Sport Lite golf bag as a birthday gift. This top-quality bag will make him thank you forever for giving him such a nice gift.
Nike Gold Air Hybrid Carry Stand Bag is the best Nike golf bag with 14 full-length dividers, 14 pockets, and a retractable stand. The incredible design makes it a highly desirable bag for all golfers who love to use stylish products.
Hold on if you want the best golf bag with all the latest features. With all that a golfer needs, Nike Golf Air Hybrid Carry Stand Bag is remarkable. The well-built aluminum construction is not only lightweight but durable and sturdy also. The overall design and placement of compartments and various features are superb.
If you are a well-organized golfer and don't like the fussy bags which make finding the desired gear a hectic task, be relaxed. Nothing like this will happen here because ample capacity for all accessories is organized impressively. The 14-way full-length dividers keep all your clubs secure from any damage. Also, they give you instant access to the club needed at any point, ultimately saving a lot of course time.
The most interesting feature is that you can carry it how you are comfortable. Whether you want to put it on the cart or hang it on your shoulders, it facilitates you with all carrying options. The cart strap pass-through lets you tighten it firmly on the cart to walk without carrying any load. The adjustable and detachable dual strap system helps you conveniently put the bag on your back to walk on the course easily.
This best Nike golf bag has durable aluminum legs that stand straight on muddy ground. Thus, you'll be safe from washing it after every use.
Conclusion
Nike Air Hybrid Golf Bag is the top pick on our list because of its excellent features. This top-notch bag has 14-way full-length dividers and 14 pockets, which makes it ideal for every golfer. 100% polyester construction, rain hood, and insulated pocket are some other features adding more meaning to its overall value.
Are you worried about not having a high budget to buy the best Nike golf bag? Don't be upset; the NIKE Departure Golf Backpack is the best budget bag with a huge main zipper compartment. Water-resistant bottom, adjustable shoulder straps, and a mesh side pocket are the features you may not find in other low-budget golf bags.
The Nike Golf Air Hybrid Carry Stand Bag is a remarkable high-end bag with 14 pockets. The 14-way full-length dividers, phenomenal design, and useful handles make this bag in high demand.