Last Updated on October 29, 2022 by Ale Monti
Do you know how professional golf players make their gaming better as compared to beginners and even amateur golfers? The reason is that they focus on the minute details of their game and associated aspects. There are so many things to focus on to make your golfing better and skillful. One really essential thing is the best way to organize your golf bag. It means you have to place all the important stuff in a way that you don't have to empty the entire bag when searching for any equipment.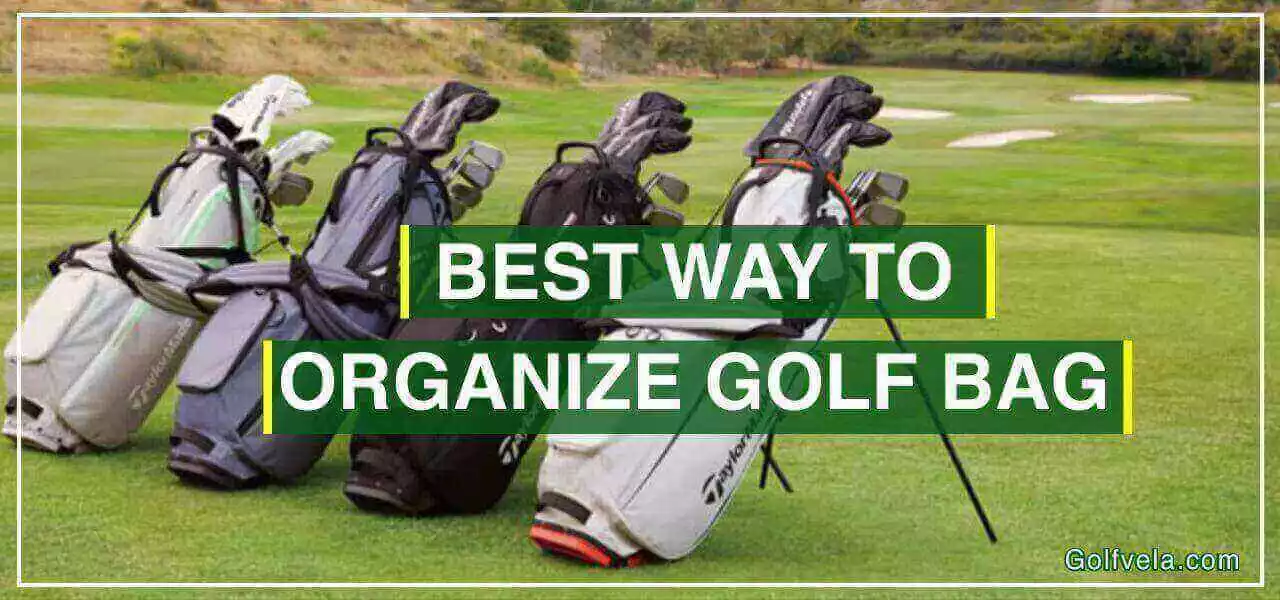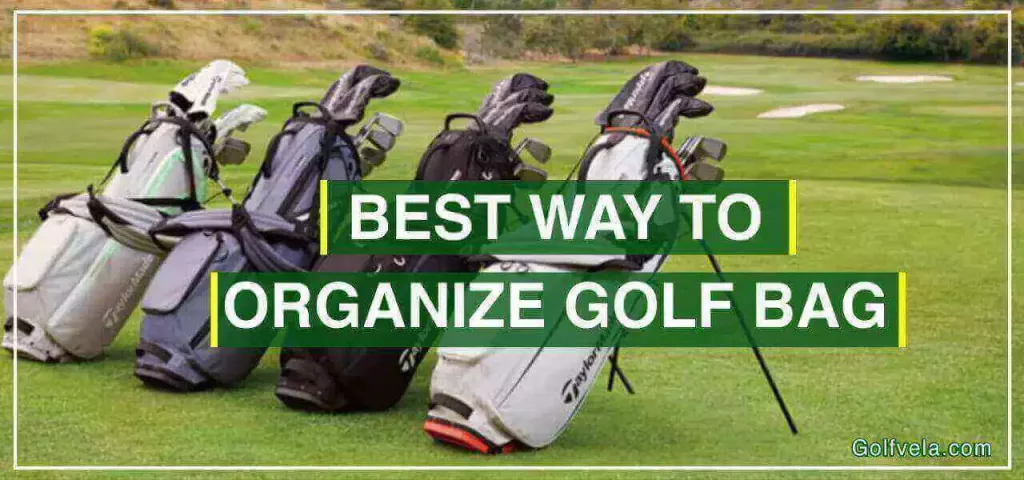 Placing your clubs anywhere in the golf bag is not okay. When needing a particular club and you don't know where the club is, it is indeed a waste of time. Not only this, but it is very embarrassing in front of other players on the course. So why are you giving an edge to the opponent over you? If you are not good at arranging your golf bag, don't worry. We are here to tell you how to organize a golf bag.
Best golf bag layout step by step
Let us discuss the Best golf bag layout step by step.
1- Empty the whole bag first
The first and foremost thing to do is to empty your bag of all the accessories. Because there is a high chance that the current organization of the bag is not right. Maybe there are some accessories that simply have no use or requirement on the course. Too much gear can clutter up your golfing bag, resultantly, you have to face difficulty finding the desired equipment. This also makes the bag heavy and uncomfortable to carry.
Empty all the side pockets of your bag as well. Don't add any extra things to the pockets to add needless weight to your bag. For example, extra balls, an extra pair of golf gloves, an extra towel, and many more things.
2- Collect all important equipment
Now the second step is to collect all the necessities such as putters, drivers, irons, rain hood, towel, gloves, golf grips, rangefinders, etc. Keep all these accessories in one place prior to placing them in your bag. Now it totally depends on you to decide what you want to place in your bag. Don't place any extra items or accessories. There is nothing more important than your drivers, golf irons, putters, and wedges. Make sure to place them first.
3- Keep in mind the weather factor
So if you are going to play the round on a sunny day, why not leave the rain hood behind. At his place, carry some extra refreshing drinks to keep yourself hydrated during the game. On the other hand, if the weather is wet, then take the rain hood with you. Leave the towel because there is no need for it as you will not get sweated.
Therefore weather is a crucial factor to keep in mind when organizing your golf bag. This is the best way to arrange your golf bag because you're not putting any extra gear in it.
4- Arranging the putter
Each golf bag has three different sections where you can place your putters. The back section of the bag is near to the strap, while the front part is at some distance. We will recommend you organize your putter first. Place your putter on the backside of your bag, which is the closest section to straps.
Very few golf bags are equipped with putter sleeves that are added at the backside. In case you own this kind of bag, then place your putter there. Otherwise, place the putter at the back section of the bag.
5- Woods and Drivers
If your golf bag has a separate putter compartment, then place your woods and drivers there. Otherwise, the back section of your golf bag is the best part for stacking drivers and woods. So just like the putters, place your drivers and woods at the back. Put your drivers towards the left side and the woods on the right side. These small but important tips should be kept in mind for doing the best golf bag setup for your convenience.
The aim here is to organize the golf clubs from longest to shortest manner. It means that your 1-3 irons should stay at the back of your bag. It is to prevent any confusion with your smaller golf clubs.
It is necessary to focus on the back section of the bag, which is the most important part to be well organized.
6- Short Clubs and Middle Irons
One of the other important things to consider for organizing your bag properly is your short clubs and middle irons. There are a total of 3-7 irons, starting from longest to shortest, and put them after/under the drivers. It means that your mid-range irons will be placed on the right while long ones will be on the left. This is the best way to organize golf clubs in a bag.
So, as a result of this arrangement, it creates a well-balanced weight. This weight is ideal for any golfer to carry a golf bag easily and comfortably. Sorting your golf clubs in such a manner becomes easy, and you can pick any club quickly.
7- Organizing your accessories
Last but not the least is proper arrangement and placement of your accessories to experience ultra-convenience. The side pockets of almost every bag are made to carry golf balls, tees, towels, etc. Place all of them in top and front pockets to access them easily. Those items which are less used, like gloves, rule books, sunglasses, etc., should be placed into the side pockets. Pockets that are difficult to reach should be loaded with rarely used items.
Conclusion
Every golf player should know the best way to organize a golf bag. It allows you to place the accessories perfectly in one place. Also, letting you easily pick the accessory required during your gameplay. In this particular guide, we have discussed in detail the Best way to arrange golf clubs in bags. It saves your time and allows you to pick the best golf club quickly instead of grabbing any club. This offers quick retrieval and return and provides you a well-organized golf bag that makes you look like a professional player.